Muslim voters in Uttar Pradesh could have voted in significant numbers for the BJP, endorsing its stand on issues like women's rights, reports N Sundaresha Subramanian.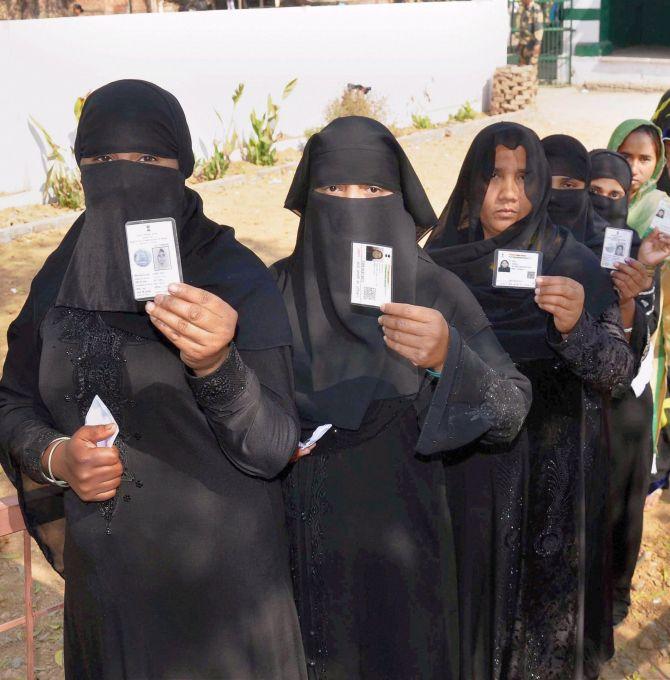 IMAGE: Muslim women line up at a polling booth to cast their vote in the final phase of elections in Uttar Pradesh. Photograph: PTI Photo
Mayawati can't believe it, many political pundits misread it, but the theory that Muslims don't vote for the Bharatiya Janata Party or that they vote against it en masse, which was seriously tested in 2014, stands busted with Saturday's election results.
Take the case of Deoband. According to the 2011 census, the city had a Muslim population of 71 per cent. Yet, BJP candidate Brijesh garnered over 102,000 votes with a lead of nearly 30,000 over Bahujan Samaj Party's Majid Ali.
Similarly in Aligarh, BJP's Sanjeev Raja was leading against two Muslim candidates fielded by Samajwadi party and BSP. Raja won with a lead of about 15,000 votes over Samajwadi Party's Zafar Alam.
Winning a three-fourths majority in the state seemed mathematically impossible without reasonable support from a community that forms about a fifth of the electorate. Yet, BJP had made its stand clear. It not only did not field any Muslim candidate, but even had among its poll promises the shutting down of "illegal slaughter houses and mechanised abattoirs." The community which has a significant presence in the meat industry did not seem happy about it.
"Most votes in Muslim majority constituencies have gone to BJP. It makes it evident that voting machines were manipulated," Mayawati alleged at a press conference soon after the results became clear.
-- Do Muslims have a future under a BJP government?
There seem to be other factors at work though.
BJP sources suggested that the women in the community were fed up of "triple talaq" and had voted for the party banking on its promise to end the practice. Some community leaders had subscribed to this idea. "It is quite likely that Muslims have voted for BJP. Considering the fact that they took the stand for Muslim women rights, I won't be surprised if some sections have shown favour with the party," Shaista Amber, president All India Muslim Women Personal Law Board, was quoted saying on Saturday.
"The idea of so-called Muslim vote stands busted," said Bilal Zaidi, former television journalist founder of portal crowdnewsing.com. A 10-city survey conducted by CrowdNewsing showed the Muslim voter was anything but strategic in the three-way contest between the BJP, BSP and the SP-Congress alliance.
According to this survey, 55 per cent of the respondents voted for the Congress-SP alliance, 36 per cent for BSP and the remaining for smaller parties. BJP bagged just 2 per cent of the Muslim vote.
Zaidi admits the sample size of his survey was small, but it is the best anyone has got at this point. He says there was no evidence yet that Muslims had voted for BJP. He feels the "vote against triple-talaq" is a nice rhetoric, but based on his survey only about two per cent of the Muslim respondents were worried about it. About 44 per cent of the voters were keen on power, roads and other such development issues.