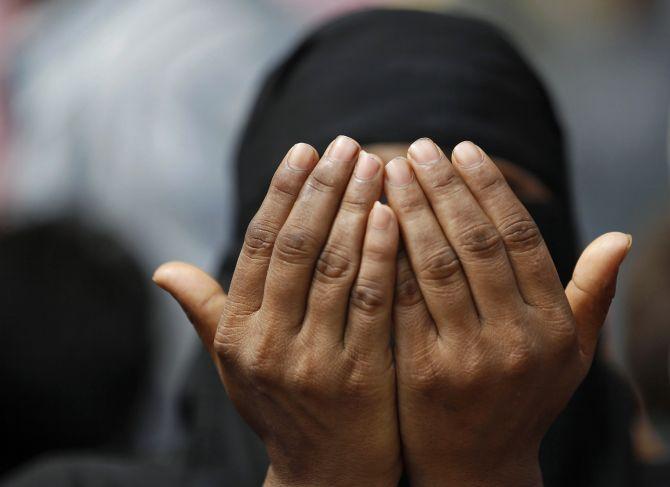 'O Hindus, isn't it time we declared India a Hindu State and have lesser mortals like me pay the jiziya so the correction of history can begin?'
'Is this what was envisaged by our Founding Fathers?'
Banning beef (and not cow) slaughter, not renewing the education quota for Muslims. What next from the Fadnavis government in Maharashtra, a ban on the aazan, asks An Indian.
O Hindus, President Pranab Mukherjee gave his assent to the Maharashtra Animal Preservation Bill banning the consumption of beef in Maharashtra.
O Hindus, this law will sentence anyone eating or found to be in possession of beef to jail for five years and levy a maximum penalty of Rs 10,000.
O Hindus, do you know that under this new law a policemen can falsely accuse me of eating beef even if I am eating mutton and have me sent to jail for five years?
O Hindus, did you read Maharashtra Chief Minister Devendra Fadnavis's tweet, 'Thanks a lot Hon President Sir for the assent on Maharashtra Animal Preservation Bill. Our dream of ban on cow slaughter becomes a reality now.'
That is not true! The cow was never slaughtered in Maharashtra; bulls, bullocks and buffaloes were slaughtered in the state.
O Hindus, the slaughter of cows was banned in Maharashtra in 1976 under the Maharashtra Animal Preservation Act, but the Fadnavis government glibly stated that 'cow' slaughter has now been banned, whereas the fact is cow slaughter was banned long ago.
O Hindus, the Bharatiya Janata Party-Shiv Sena government gave a communal colour to this entire issue by tagging the word 'cow' which is holy to you so that they could get the President's nod to the Maharashtra Animal Preservation Bill.
O Hindus, now you will say, why don't we settle for goat meat? Do you know, goat meat costs Rs 400 per kilo whereas beef costs just Rs 180 per kg?
For poor people -- and the majority of the Muslim community is poor -- beef is the more affordable meat.
O Hindus, we know there are many among you who are upset and who feel that this law is unjustified as the government has no right to decide on what the people must eat.
O Hindus, at the same time, we know many of you are also happy this law has been passed as you believe in a ban on the slaughter of all animals.
O Hindus, to those who swear by this law, I want to ask only one question. Have you ever thought of what the butchers will do when they have no jobs?
What will happen to the leather industry, on which thousands of jobs are dependent?
Where will these workers go, what will they do for a living?
O Hindus, Prime Minister Narendra Modi says he believes in 'Sab Ka Saath, Sab Ka Vikas.' This is a lie as proved time and again by his ministers and state governments who announce or do something exactly opposite to what Modi says.
O Hindus, do you know what was the first thing the Fadnavis government did after coming to power? It overturned the five percent reservations granted to Muslims in government jobs and education.
O Hindus, we know that many of you feel that Muslims are backward and they lack education. Don't we deserve even five percent reservation even after 67 years of Independence considering our backward status in our country?
O Hindus, luckily the Bombay high court intervened and restored the five percent reservation for Muslims in the educational sector, but not in government service, delivering a rebuke to the government. The Fadnavis government has challenged this order in the Supreme Court, and in the meantime also let an ordinance granting Muslims a five percent quota in education lapse.
O Hindus, do you know that after 67 years of Independence, Muslims don't get homes in your areas -- and this happens in cosmopolitan, progressive cities like Mumbai?
O Hindus, do you know that they don't get homes only because they are Muslim and for no other reason?
O Hindus, not a single Muslim organisation from the Indian mainland has supported the Kashmiri Muslim separatist struggle, but still the State doubts the integrity and loyalty of the Muslim to his country.
O Hindus, ever since the Modi government has come to power, not a single week goes by without some controversial mention of 'ghar-wapsi', or re-conversion.
O Hindus, with this even the Christian community, which was the least affected in the years since Independence, has started feeling threatened.
O Hindus, Prime Minister Modi assured everyone in his address to the Christian community that his government was for everyone, but the very next day, the RSS boss declares that Mother Teresa's ultimate agenda was not service to mankind, but she had a hidden agenda, to convert people to Christianity.
O Hindus, there was a time when Bollywood made films like Amar Akbar Anthony espousing communal harmony; now we make films like Baby whose sole agenda is to scare people about all Muslims.
O Hindus, a VHP sadhvi calls for the boycott of Bollywood's reigning Khan trio, and no one says anything.
What next, shall we also ban music by legends like Bismillah Khan only for their name?
O Hindus, what is our country turning into? Is this what was envisaged by our Founding Fathers?
O Hindus, my community numbers not more than 15 percent of India's population and the votes of my community does not decide who wins elections. In short, we don't matter, our votes don't matter in this country.
O Hindus, so please tell us, given this, what does the future hold for Muslims under a BJP government?
O Hindus, today they have banned beef in Maharashtra. Next will it be the aazan (the call to prayer) from mosques on the ground of noise pollution?
O Hindus, let me quote what Altaf Hussain Hali wrote way back in the 19th century on the plight of Muslims in India:
'O Hindus, you have turned lions into lowly beings; O Hind, those who were Afghan hunters came here to become the hunted ones. You've made our condition frightening. We were fire, O Hind, you've turned us into ash.'
O Hindus, when a tyrant like Aurangzeb ruled India, he was clear that his vision was for an Islamic State in which Hindus were second class citizens.
The BJP, in the garb of secularism, is promoting Hindutva and, O Hindus, you tell us to believe in Indian secularism by giving us slogans like 'Sab Ka Saath, Sab Ka Vikas.'
O Hindus, isn't it time we declared India a Hindu State and have lesser mortals like me pay the jiziya so the correction of history can begin?
O Hindus, I am afraid to attach my name to this column as that will give trolls the chance to call me a Pakistani agent. This is what our country has come to, O Hindus.
In closing, a verse from Mirza Ghalib to mull over:
Humko faryad karni aati hai
Aap suntey nahi toh kya kijiye.

We can only plead
If you don't listen, what can we do?
Image: A Muslim offers prayers. Photograph: Amit Dave/Reuters