Except drubbing in Delhi and Bihar, the BJP president has had a good record since he took over the reins of the party in June 2014, says Archis Mohan.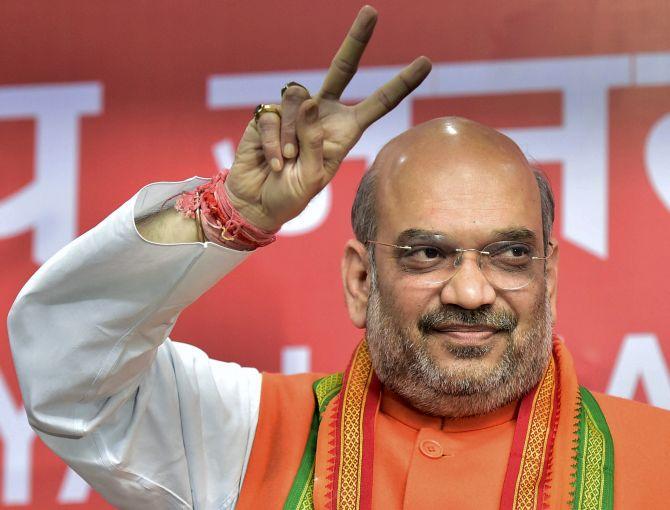 His closest aides say Bharatiya Janata Party President Amit Shah transformed the work culture at the party's national headquarters at 11, Ashoka Road.
If earlier party office- bearers were selected for their ability to perform parikrama, literally circumambulation but denoting sycophancy, of the then party presidents, now people are rewarded for their parakram, or performance.
Shah is known to keep a track of the days party office bearers attend office, whether they are punctual and the time they devote to meet party workers who come to the party headquarters from across the country. Party office bearers are also required to make frequent visits to the states that they are responsible for.
In ensuring BJP's victories, Shah has had a good record since he took over the reins of the BJP's organisation in June 2014. His two blemishes have been the setbacks the party suffered in Delhi and Bihar assembly polls in 2015.
However, Shah learnt quickly from both, particularly from Bihar where local leaders had complained that they were kept out of the loop and central leaders had done all the decision-making. The party was careful not to repeat these mistakes in Uttar Pradesh.
Shah, ably supported by Uttar Pradesh state unit general secretary (organisation) Sunil Bansal, stitched a patchwork of non-Yadav OBC and non-Jatav Dalit castes, to lead the BJP to a splendid victory in Uttar Pradesh. He has also overseen a transformation of party's district unit leaderships by appointing leaders from these castes to perform key roles.
The 52-year-old has also kept the workers galvanised to organise community and caste specific outreach and to take Modi government's pro-poor schemes to the people.
There has been speculation that Shah would prefer to return to Gujarat as the chief minister, particularly since the Gujarat polls are scheduled by the end of this year. But Shah is important to the BJP and Prime Minister Narendra Modi's efforts to win the 2019 Lok Sabha polls.
IMAGE: BJP president Amit Shah shows a victory sign after addressing a press conference following party's victory in the assembly elections, at the party head quarters in New Delhi on Saturday, March 11, 2017. Photograph: Kamal Kishore/ PTI Photo