An estimated 57.03 per cent voters cast their ballots on Saturday in the sixth phase of the Uttar Pradesh elections covering 49 Assembly seats, including Mau, where gangster-turned-politician Mukhtar Ansari is in the fray.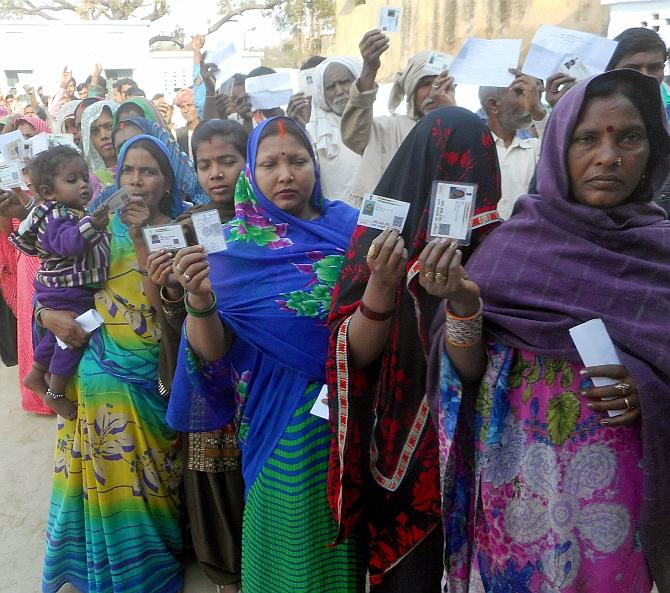 "The polling was approximately 57.03 per cent and passed off by and large peacefully," office of UP Chief Electoral Officer said in Lucknow.
The polling percentage on these 49 seats was 55.04 in the 2012 state assembly polls.
The poll percentage in the first phase of the current state polls was 64.22. It was 65.16 in the second phase, 61.16 in the third phase, 60.37 in the fourth phase and 57.37 in the fifth phase.
Around 1.72 crore voters, including 94.60 lakh men and 77.84 lakh women, were eligible to cast their votes in Saturday's round. A total of 635 candidates, including 63 women are in the fray in this phase.
Besides SP patron Mulayam Singh Yadav's Azamgarh being in focus, Gorakhpur Lok Sabha constituency of firebrand BJP leader Yogi Adityanath, and Mau, where jailed gangster-turned-MLA Mukhtar Ansari is in fray, also figured in the penultimate phase of polling. This phase also covered some districts bordering Nepal.
The districts where polling is going on in the sixth phase are Mau, Gorakhpur, Maharajganj, Kushinagar, Deoria, Azamgarh and Ballia.
Azamgarh Lok Sabha constituency has 10 assembly seats, of which SP had won nine in 2012, but this time Mulayam has not addressed a single meeting in his parliamentary constituency.
The prestige of Union minister Kalraj Mishra, who represents Deoria in the Lok Sabha, is also at stake in this phase of the crucial state polls.
BJP is contesting from 45 seats, while its ally Apna Dal is trying its luck in one seat in this phase.
Another BJP partner Suheldev Bharatiya Samaj Party is contesting from three seats. While BSP fielded candidates on all 49 seats, SP is contesting from 40 seats and Congress from nine seats under an alliance.
Prominent candidates in this phase include BSP turncoat Swami Prasad Maurya from Padrauna (Kushinagar), former BJP state president Surya Pratap Shahi from Pathardeva (Deoria), Shyam Bahadur Yadav (SP), son of former Governor Ram Naresh Yadav from Fulpur Pawai (Azamgarh), SP turncoats Ambika Chowhdury and Narad Rai, who are contesting on BSP ticket from Fefna (Ballia) and Ballia Sadar.
While gangster-turned-politician Mukhtar Ansari is contesting from Mau, his son Abbas is in the fray from adjoining Ghosi seat.
In the 2012 Assembly polls, of the 49 seats, 27 were won by SP, 9 by BSP, 7 by BJP, 4 by Congress and 2 by others.
A total of 17,926 polling booths and 10,820 polling centres have been set up in the sixth phase.
The highest number of 23 candidates are contesting from Gorakhpur and the least (seven) are from Mohammadabad Gohna seat in Mau district.
The Central paramilitary forces assisted the local police in ensuring free and fair polls and carried out flag march in sensitive areas.
The Indo-Nepal border with Maharajganj and Gorakhpur, and that with Bihar were sealed to prevent mischief makers from sneaking into the Indian territory or escaping.
Police patrolling was intensified along inter-district borders and barriers were erected on highways to keep an eye on movement of vehicles.
Possible trouble from Maoists and the porous Indo-Nepal border were the two biggest challenges before the police in Maharajganj.
"The 84-km-long Indo-Nepal border was sealed by Sashastra Seema Bal (SSB) and only emergency vehicles were allowed to cross the border," District Electoral Officer Virendra Kumar Singh said.
Cameras were installed on trade and transit points along India's border with Nepal to prevent illegal movement of people during polling.
Singh said two such cameras have already been set up at Sonauli in Maharajganj district on the India-Nepal border.
The road so far...
Image: Women stand in a long queue to cast their votes in Mau for the 6th phase of assembly elections. Photograph: PTI Photo