Amidst the barbs flying back and forth, Rediff.com's Aslam Hunani lists all that you need to know about Phase 4 of the UP assembly elections, which will take place on February 23.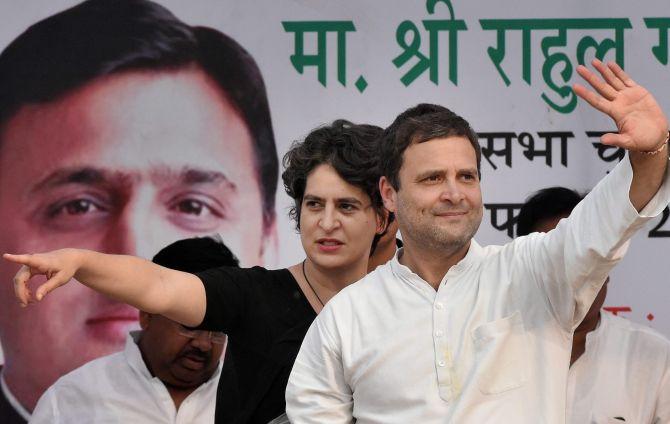 IMAGE: Rahul Gandhi and Priyanka Vadra campaigned together in the Congress party stronghold of Rae Bareli. Photograph: PTI Photo
Campaigning for Phase 4 of the Uttar Pradesh assembly elections drew to a close on February 21 with the main political parties in the fray -- the Samajwadi Party-Congress combine, the Bharatiya Janata Party and the Mayawati-led Bahujan Samajwadi Party, trading allegations and counter-allegations.
Polling in this phase will be held on February 23, covering 53 constituencies spread over 12 districts of Rae Bareili, Pratapgarh, Kaushambi, Allahabad, Jalaun, Jhansi, Lalitpur, Mahoba, Banda, Hamirpur, Chitrakoot and Fatehpur.
Of the three phases that have already gone to polls, the third phase recorded a 61 per cent turnout, the second phase a 65 per cent turnout and the first phase a 64 per cent turnout.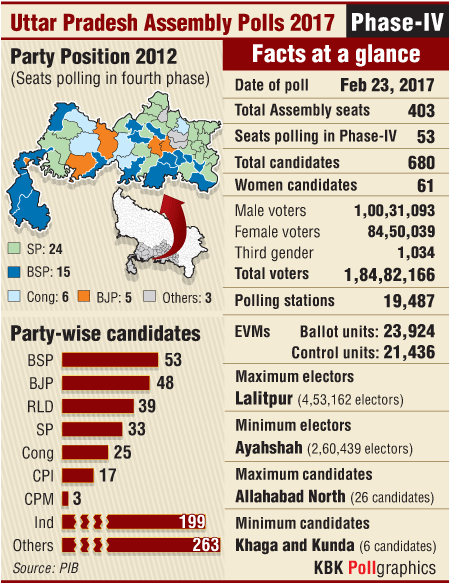 The districts polling in Phase 4 are spread across Bundelkhand and Doab.
Bundelkhand has fallen into troubled times because of an almost continuous drought that has hurt its farming communities, and all efforts towards development have fallen short.
Though Doab is home to more fertile districts, both this region and Bundelkhand are plagued with problems of infant and under-5 mortality, poverty, and a declining sex ratio.
However, the headline grabbing statements from the rallies in these regions have been less about development and more about exploiting fissures.
At a rally in Fatehpur on February 19, Prime Minister Modi alleged, 'Agar Ramzan mein bijli aati hai, to Diwali me bhi aani chahiye, bhedbhav nahi hona chahiye (If there is electricity during Ramzan, it must also be available during Diwali, there should be no discrimination).'
'Gaon me kabristan banta hai to shamshaan bhi banna chahiye (If land is given for a cemetery in a village, it should be allotted for a cremation ground too).'
Pointing to the divisive nature of the remarks, the Congress said it would register a complaint with the Election Commission.
UP Chief Minister Akhilesh Yadav took a dig at Modi for his comments during the Fatehpur rally while campaigning in Rae Bareili on February 20.
Without naming anyone, he referred to the advertisement in which Amitabh Bachchan, the brand ambassador of Gujarat tourism, is seen inviting tourists to visit the wild ass sanctuary located in Little Rann of Kutch in Gujarat.
'Ek gadhe ka vigyapan aata hai. Main iss sadi ke sabse bade mahanayak se kahunga ke ab aap Gujarat ke gadhon ka prachar mat kariye (There's an ad on TV which shows donkeys. I appeal to the century's biggest star, please stop endorsing the donkeys of Gujarat),' Yadav said.
Modi also traded barbs with Mayawati.
While Modi -- at a rally in the Orai region of Jalaun in Bundelkhand -- called the BSP the 'Behenji Sampatti Party' (mocking Mayawati's opposition to demonetisation), Mayawati played on Modi's initials calling him 'Mr Negative Dalit Man.'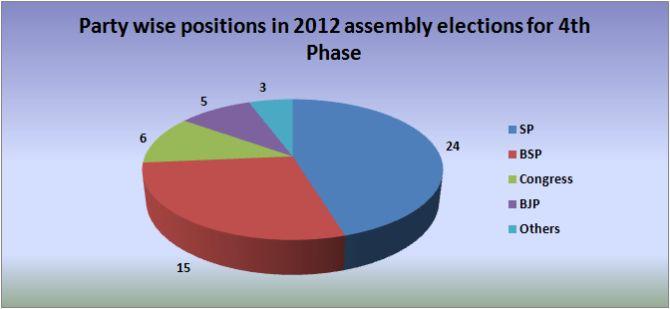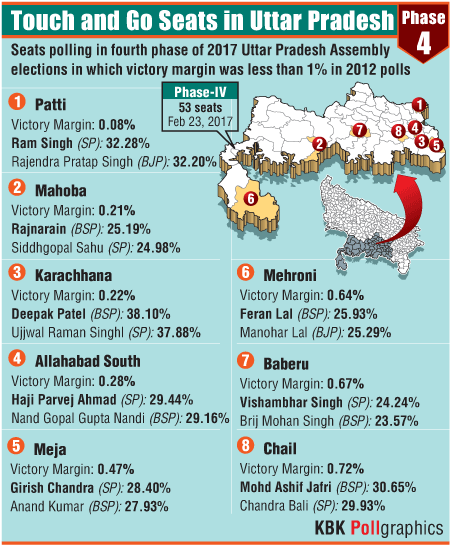 The SP, which had won a majority of these seats in the 2012 polls, has a tough battle on its hands this time.
The strong contenders in the fray in this phase are Aradhana Mishra, the sitting MLA in the Rampur Khas (Pratapgarh) constituency and Congress MP Pramod Tiwari's daughter; the controversial Independent MLA and minister Raghuraj Pratap Singh aka Raja Bhaiya, who is seeking re-election from his traditional Kunda (Pratapgarh) seat; and Congress leader Akhilesh Singh's daughter Aditi Singh, who is contesting from the Rae Bareli seat.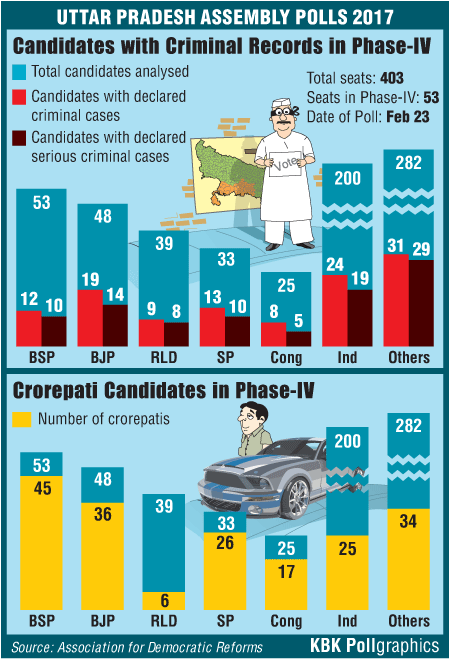 Like other parts of UP, law and order is a serious issue in this phase of the polling too.
At the February 19 rally in Fatehpur Modi had also lambasted the SP government for its 'failure' to maintain law and order.
'The Supreme Court had to intervene to get the FIR (first information report) registered against (SP MLA) Gayatri Prasad Prajapati (in a gangrape case). 'Goonda raj' is prevailing all over UP and police stations have become Samajwadi Party offices,' the prime minister said.
According to data collected by the Association for Democratic Reforms, it is the BJP -- after the Independents -- that has fielded the most number of candidates with criminal cases in this phase.
A whopping 40 per cent (19 candidates) of the BJP's candidates have criminal records, while 14 or 29 per cent of the party's candidates have serious criminal cases against them.
As per the ADR data, out of 680 candidates in the fray, 116 or 17 per cent of the candidates have declared criminal cases against themselves, and 95 or 14 per cent of the candidates have declared serious criminal cases, including cases related to murder, attempt to murder, kidnapping, crimes against women, etc.
Though the regions in this phase are plagued by poverty, 189 of the 680 candidates (28 per cent) are crorepatis.
The three richest candidates are Independent Subhash Chandra from Chail (Kaushambhi district), who has self-declared assets worth ₹70 crores (₹700 million), followed by the BJP's Nand Gopal Gupta Nandi from Allahabad South (Allahabad district), who has declared assets worth ₹57 crores (₹570 million) and the BSP's Mohammed Masroor Shaikh from Phulpur (Allahabad district), who has declared assets worth ₹32 crores (₹320 million).
Only one candidate -- the Samajwadi Janata Party (Rashtriya)'s Indrakar Mishra contesting from Pratapgarh constituency -- has declared zero assets in his self sworn affidavit.
This phase of the polls also doesn't fare too well on the education and gender markers.
Only 60 or 9 per cent of the candidates are female.
Over 268 or 39 per cent of the candidates have declared their educational qualification to be between 5th and 12th standards; 36 candidates have declared themselves to be just literates; and 6 candidates have declared themselves as illiterate.
Just about half of the candidates -- 367 or 54 per cent -- have a declared educational qualification of graduate or above.
The next phase of polling will take place on February 27, across 52 constituencies in 11 districts, including the Congress party bastion of Amethi.
Scroll down for more poll stories from Uttar Pradesh.