The Uttar Pradesh police on Thursday gunned down alleged gangster Anil Dujana, an accused in 18 cases of murder, in an encounter at a village in this western UP district, officials said.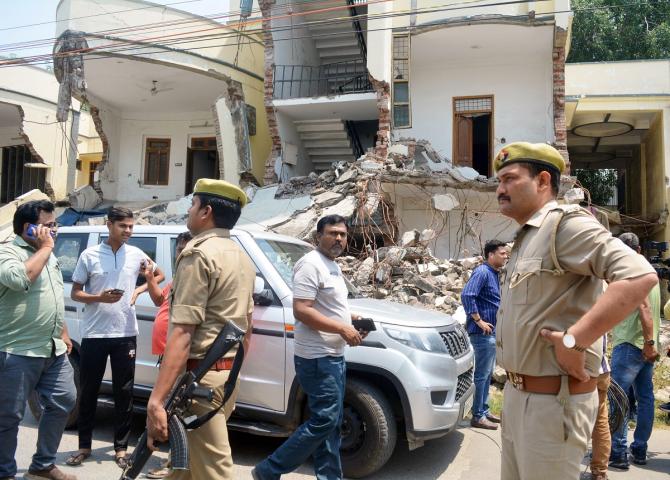 According to the police, a Special Task Force team retaliated when the gangster, recently released from prison on bail, opened fire at them after being cornered. His car had crashed into a pole.
Special DG (law and order) Prashant Kumar said the state police have been keeping tabs on 65 gangsters, including Dujana who was known for terrorising people in the national capital region by his criminal activities.
The encounter took place on the day of polling for the first phase of the urban local body elections in the state.
The Yogi Adityanath government's major poll plank has been its "strict" handling of law and order.
Days earlier, gangster-politician Atiq Ahmad's son Asad Ahmad and his accomplice were shot dead in an exchange of fire with the Uttar Pradesh police.
A couple of days later, Atiq Ahmad and his brother Ashraf Ahmad were gunned down in Prayagraj by three men while they were being escorted to a hospital by the police.
Additional director general of Uttar Pradesh STF Amitabh Yash said, "Anil Dujana (43), a wanted criminal, was surrounded by our team led by additional SP of UP STF Brijesh Singh in a village in Meerut on Thursday afternoon. He fired at our team to escaped and was killed in retaliatory firing."
In a press statement, the Uttar Pradesh STF said Dujana was alone in the vehicle at the time of the incident.
"According to preliminary information, Anil Dujana was going to meet some of his gang members. The SUV he was travelling in collided with an electric pole after being surrounded by the STF team," special DG (law and order) Prashant Kumar said.
He was recently released from prison on bail and was trying to build his gang again, the officer said, adding a case of extortion was also lodged against him at Dadri Police Station of Gautam Buddh Nagar.
The STF claimed that Dujana was travelling from Baghpat to Muzaffarnagar to meet his gang members to plan and carry out a "big operation."
Four pistols and several cartridges were seized from the encounter spot, Kumar said.
According to STF officials, Anil Dujana, in his initial years, used to work for the Sundar Bhati gang in western Uttar Pradesh.
He later turned against Sundar Bhati, resulting in a gang war that continued for almost a decade. Despite his arrests on several occasions, Dujana remained active even from behind bars, even planning and ordering the killings of many of his rivals, the officials said.
Gangster Anil Nagar alias Anil Dujana, who was gunned down on Thursday by the Uttar Pradesh police's Special Task Force in an encounter, had got engaged in 2019 inside a court complex after hearing of a case, officials said.
Once among most wanted gangsters in western UP, Dujana, 43, had exchanged rings with Puja, who hails from Baghpat, right outside the court of Additional District Judge (II) at Surajpur complex in Gautam Buddh Nagar in February 2019 where he was brought from a jail for the case hearing.
"The police team was there at the court and it was a dramatic turn of events. Some of Dujana's supporters and aides had turned up at the court with garlands also for the couple," a police officer told PTI, recalling the four-year-old episode.
While not much is known about their marriage, a police official said that Dujana tied the knot in February 2021 in a low-key affair with Puja, who was in her early 20s then.
The dreaded gangster had 65 FIRs lodged against him in cases ranging from robbery to extortion, contract killing to land grab, illegal sand mining, kidnapping, etc, the official said.
He had the maximum 49 cases against him in Gautam Buddh Nagar, four in Ghaziabad, eight in Muzaffarnagar, and two each in Bulandshahr and Delhi, the official said.
Another IPS officer, who has investigated cases related to Dujana, said during his heydays, Dujana's reign of terror spread across Noida and Greater Noida with his gang extorting money even in white-collar works.
"He had his hands in contracts related to the real estate sector, transportation, scrap dealings, infrastructure work, etc. At one time his influence reached a level that was involved in deciding whose uniflex posters and banners would get placement along the roads in Noida and Greater Noida," the senior officer told PTI.
"Flexing his criminal muscles, Dujana once called shots on who would get transportation contracts in private companies in Gautam Buddh Nagar. He had threatened not only small transporters but also big ones having a fleet of dozens of buses or trucks," the officer said.
According to police records, Dujana, who hailed from Dujana village in Greater Noida, was inducted in the world of crime in 2002 with a murder case lodged against him at Kavi Nagar police station in Ghaziabad.