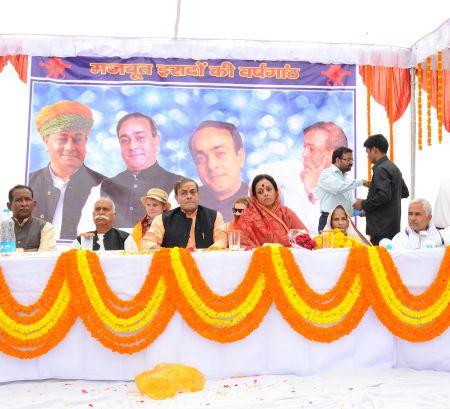 Having faced much political embarrassment after the drubbing in the 2012 Uttar Pradesh polls, Rahul Gandhi is in for another jolt when 'Uncle' Sanjay Singh joins the BJP and contests the Amethi election against him, reports Sharat Pradhan.
Congress Vice President Rahul Gandhi may confront a tough challenge in his Lok Sabha constituency Amethi, where Congress MP Sanjay Singh -- someone Rahul calls 'Uncle' -- is likely to be his electoral rival after switching loyalties to the Bharatiya Janata Party.
Sanjay Singh's drift towards the BJP was evident at his birthday celebration at his palace -- Bhupati Bhavan -- in the rustic Amethi town, about 140 km from Lucknow, on Tuesday, November 12.
Sources close to the artistocrat confirm that the 60-year-old MP from Sultanpur is on the verge of revolting against his party.
Even as Sanjay and his badminton star-turned-politician Amita Singh are tight-lipped, the presence of a dozen BJP leaders on the dais during the birthday celebration spoke audibly about his future plans.
Prominent among the BJP leaders on the dais with Sanjay Singh were former state ministers Dal Bahadur Kori and Ram Lakhan Pasi and former Gauriganj MLA Tejbhan Singh.
Two well known Congress leaders -- Rajpati Singh, a former MLA whose late husband Giriraj Singh was a Congress MP, and former Congress MP Rajkaran Singh -- were also present on the stage together with a couple of Samajwadi Party and Bahujan Samaj Party officials.
"Leaders of different political parties attended the birthday celebrations, which need not be read with political overtones" argued Amita Singh, who is said to have masterminded the move as she is very upset by the manner in which her husband has been sidelined by Rahul and the rest of the Gandhi clan after he was elected to the Lok Sabha from Sultanpur, neighbouring Amethi.
Sanjay Singh, who was once close to both Sanjay Gandhi and Rajiv Gandhi, is now out to give the Gandhis a run for their money. His late father Rananjay Singh, the raja of the erstwhile princely state of Amethi, had ushered both the elder Gandhis to the political turf of Amethi.
Sanjay Singh fell out with the Gandhis in 1988 when he switched loyalties to the Janata Dal, then led by his first wife Garima's uncle Vishwanath Pratap Singh. In 1990, Sanjay Singh became the communication minister in the Vishwanath Pratap Singh Cabinet.
In 1998, he switched allegiance to the BJP on whose ticket he defeated Congress leader Satish Sharma in Amethi. But, in 1999, Sanjay Singh was defeated by Sonia Gandhi contesting her first Lok Sabha election.
Sanjay Singh kept a low profile before staging a comeback in the Congress which fielded him from Sultanpur in the 2009 Lok Sabha election.
Though he won the seat, he could not win back the Gandhi family's confidence.
Sonia, Priyanka and Rahul Gandhi did not involve Sanjay in their political and social activities in Amethi.
"Sanjay Singh never got his due from the Congress whose top leadership treated him with contempt even after he proved his worth by winning the Sultanpur seat," alleged Radhey Pratap Singh, a prominent Congress leader from the Tiloi assembly segment.
Political observers believe Sanjay Singh's decision to switch sides is bound to have been influenced by BJP President Rajnath Singh's overtures to woo fellow Thakur leaders from rival political parties.
At Sanjay Singh's birthday celebration, former Congress MP Raj Karan Singh drew the audience's attention to the deplorable development of Amethi. "All these years, Rahul Gandhi gave nothing to Amethi, which continues to look like a village," Raj Karan Singh said.
"It is a matter of shame that Amethi received an overdose of Rahul Gandhi's lip service without any follow-up action," Raj Karan Singh added.
Having faced much political embarrassment after the 2012 state assembly election in which the Congress party lost three of the five assembly segments in the Amethi parliamentary constituency, Rahul Gandhi may be in for another jolt when Sanjay Singh challenges him as the BJP candidate in Amethi.
Image: Sanjay Singh, fourth from left, flanked by his wife Amita Singh and other leaders in Amethi on November 12.