Congress vice-president Rahul Gandhi's style of functioning, his preconceived opinions and lack of patience has distanced him from the party cadre. Anita Katyal reports.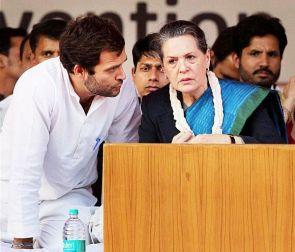 A sense of quiet desperation has gripped the Congress party. Besides battling a strong wave of anti-Congress sentiment, party vice-president Rahul Gandhi's disconnect with the rank and file has emerged as a matter of concern.
The Nehru-Gandhi scion has not been able to establish the same kind of rapport with party cadres as his mother was able to do.
As a result, the generational change in the grand old party is proving to be a painful affair. "To some extent we are feeling orphaned. We don't know who to turn to when we have a problem," said a Congress leader.
Sonia Gandhi is in the process of handing over the baton to Rahul Gandhi but the party vice-president is yet to get a grip on organisational matters.
Party insiders put this down to the difference in their temperament and style of functioning. Aware of her "foreigner status," Sonia Gandhi had made a conscious effort to learn the ropes after she took up the party. She worked hard and has been known to be accommodating, flexible and a keen listener.
"She was always willing to give a patient hearing to party leaders who approached her with their grievances," said another Congress office-bearer. Above all, she has displayed staying power which helped her hone her political instincts over the years.
"She learnt fast on the job…most importantly, she understood well who to entrust a particular job. This explains why she picked Manmohan Singh for the prime minister's post," a senior Congress minister pointed out.
Although other parties were wary of her, Sonia Gandhi eventually shed the "foreigner tag" in 2004 when she single-handedly stitched up an alliance of secular parties, bringing into its fold critics like Sharad Pawar, V P Singh and Chandrashekhar.
Her credibility and reputation were further strengthened when she declined the prime minister's post and followed it up by leading the Congress to a second successive victory in 2009.
But Rahul Gandhi stands out in stark contrast. He is not known to be particularly industrious, has preconceived opinions and does not have the patience to listen.
"Unlike Sonia Gandhi, Rahul has a cut-and-dried approach to people and issues. Workers and even senior leaders find it difficult to approach him," said a Congress leader.
Although Rahul Gandhi has been holding extensive and intensive meetings with party office-bearers, state leaders and workers ever since he took over as Congress vice-president in January, he has not been able to connect with the cadres.
His reliance on outsiders like Madhusudan Mistry, Mohan Prakash and Beni Prasad Verma, and a small group of young leaders and professionals has not helped.
The helplessness in the party is all pervasive.
"It is difficult to tell Sonia Gandhi that Rahul Gandhi is not measuring up. Besides, she does not want to check him. Having given him a free hand, she wants him to take his own decisions and develop his own opinions," an AICC office bearer explained.
Sonia Gandhi may occasionally intervene as she recently did when the party was hit by rebellion after the distribution of tickets for the Madhya Pradesh assembly polls. But for most part, she has given Rahul Gandhi a free hand.
Besides Rahul Gandhi's style of functioning, Congressmen are also disturbed that the party vice-president and undeclared prime ministerial contender, is not making any impact with the electorate.
Most often his speeches end up inviting criticism like his remark that young Muzaffarnagar riot victims were being lured by Pakistan's Inter-Services Intelligence.
The Congress is no longer sure Rahul Gandhi has the capability to lead them to a victory in the 2014 Lok Sabha polls, though few speak openly about it. The massive crowd at Bharatiya Janata Party prime ministerial candidate Narendra Modi's rallies has added to the despondency in the Congress.
"When Modi addresses a rally, people listening to him may be undecided about voting for the BJP. But once they hear Rahul Gandhi, they come back certain that they will not vote for the Congress," said a political observer who has been studying the response at the rallies of the two leaders.
Not only is Modi gaining popularity with the people he has also tightened his grip over the party.
This is ironic considering Congress leaders, until eight months ago, were pointing to the divisions in the BJP and the National Democratic Alliance over Modi's projection as PM candidate.
"At least we have no such problem. There is clarity in the Congress about our PM candidate and the party is united on this issue," Congress leaders would often tell media persons while deriding the disarray in the opposition camp.
The situation has changed dramatically now. BJP is unfazed over the walk out by the Janata Dal-United, while senior BJP leaders like L K Advani, Sushma Swaraj and Murli Manohar Joshi, who were unhappy with Modi's ascendency, have reluctantly accepted him as first among equals.
With party cadres energised by the Gujarat strongman's projection and the Rashtriya Swayamsevak Sangh backing him, Modi-led BJP today enjoys a clear edge over the ruling Congress.