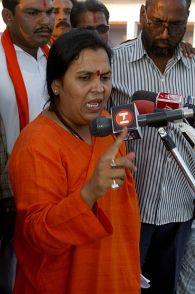 Karnataka Janatha Paksha chief B S Yeddyurappa found unexpected support from senior Bharatiya Janata Party leader Uma Bharati on Friday. "I have been very attached to Yeddyurappa and he should know that if BJP becomes weak the country becomes weak," the national vice president of the BJP said in Bangalore.
"I want to send Yeddyurappa a message. Right now the country is facing a crisis and we need to be together. Yeddyurappa has been a dedicated worker of the BJP and I want to tell him that country should be more important than self," Bharati said.
Uma Bharti also quoted her own case while saying that she had not quit the BJP but was taken out. "I was invited to join the BJP in 2009, but I needed time and joined in 2011. It was Rajnath Singh (current party president) who brought me back to the BJP. I have assured him that I am ready to do everything for the party," she added.

She also took a dig at Congress leader Rahul Gandhi who has made corruption in BJP an election plank. "Rahul cannot see the action taken by us against corrupt leaders," she said.