Will any party in Karnataka get an absolute majority in the May 5 elections? What combinations and options do political parties have? Vicky Nanjappa answers a few crucial questions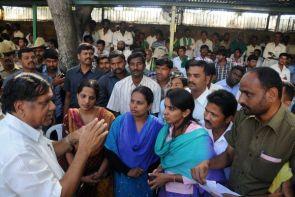 The ground report from Karnataka forecasts a hung assembly. The Congress at the start of the poll process had given itself 120 seats. But analysts say that due to infighting the party could get up to 90 seats only. The Bharatiya Janata Party on the other hand is likely to get anything between 70 and 80 seats. In such an event the Congress would need the support of 23 MLAs while the BJP would need 33 to 43 MLAs.
The most likely kingmaker in such an event would be the Janata Dal-Secular which could win up to 35 to 40 seats. They are likely to make their first offer to the Congress.
If such a scenario arises, G Parameshwar, the Congress chief and an aspirant to the post of chief minister, would be the happiest, as the JD-S won't allow Siddaramaiah to become the chief minister.
Siddaramaiah was earlier part of the JD-S but left the party in a huff accusing the party of family-oriented politics. He was upset that JD-S president Deve Gowda decided to make Kumaraswamy a leader despite being much junior to him.
Siddaramaiah would be hoping that the Karnataka Janatha Party gets at least 20 to 25 seats. Yeddyurappa would not have much problem with the candidature of Siddaramaiah. In fact, Yeddyurappa would not have a problem with anyone as long as he gets a good deal. He would only want his 20 MLAs accommodated in the cabinet.
If the JD-S is unhappy with the Congress and Siddaramaiah agrees to an alliance with them, the party would look for a tie up with the Bharatiya Janata Party. If the BJP manages to get the support of the JD-S and a couple of independents then it could form the government. The JD-S will not have a problem with the candidature of incumbent chief minister Jagadish Shettar. However, the JD-S would insist on a term sharing arrangement no matter which party it supports.
In case the Congress does well and manages to get a majority then the problem would be an internal one. Both Siddaramaiah and Parameshwar are adamant that they want to be CM. A lot would depend on how they manage to impress Congress vice-president Rahul Gandhi who will address rallies in their constituencies. Both the leaders have directed their followers to gather as much crowd as possible so that they can impress upon their leader the kind of clout they have.
In the case of the BJP it is a clear picture if they manage to get a majority. They have already announced Shettar as their candidate for CM and the government formation process will be a smooth one.