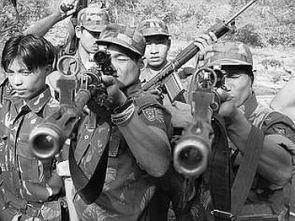 A bomb was recovered on Monday from an unclaimed bag in a passenger coach of 15471 Alipurduar-Kamakhya Inter-city Express at Kendukona near Rangiya in Kamrup district of Assam.
Sources told rediff.com that the unclaimed bag was noticed by passengers near the doorway to coach number three of the train at around 10:55 am following which security personnel on board were alerted.
A joint team of Government Railway Police and Railway Protection Force recovered the 7kg bomb, which was later defused by explosives experts from the Army.
The incident comes just days before Prime Minister Narendra Modi's visit to Assam, raising security concerns.
On Sunday, two people were killed in a blast at Rajgarh in Moran town of Dibrugarh district.
Chief Minister Tarun Gogoi has claimed that the anti-talks faction of the United Liberation Front of Asom was behind the blast.
Meanwhile, intelligence reports have said that the banned ULFA is planning to target BJP leaders and non-Assamese people living in the state ahead of Modi's visit.
Assam Police and other security agencies were on Monday alerted and directed to take all precautionary steps to foil any such attempt by ULFA cadres to disturb peace, official sources said.
Modi will be in Guwahati on November 30 to attend the conference of the DGPs/IGPs. He will also attend a meeting of chief ministers of all northeastern states that day.
ULFA's anti-talk faction headed by Paresh Baruah is planning to carry out some spectacular attacks ahead of the Prime Minister's visit to get maximum publicity as the group was losing its cadres due to operations by security agencies and dwindling popularity, sources said.

ULFA has, in the past, targeted many BJP leaders and killed some of them, including party candidate for Dhubri Lok Sabha constituency Pannalal Oswal in 1999 and Jayanta Dutta, BJP candidate for Dibrugarh Assembly constituency in 2001.
Nearly 100 Hindi-speaking people were also killed by ULFA in different incidents in the past decade.

With Agency Inputs