Actor Dalip Tahil's fairly successful stint in a BBC television soap opera seems to have aroused the wrath of the actors'  union in the United Kingdom.

Tahil stars as charmer Dan Ferreira in the popular soap opera East Enders and has become one its most-loved characters.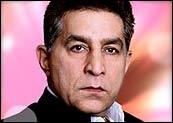 UK-born Asian actors, who resented his success, complained to the actors' union, Equity, that their India-born colleague was taking work away from them.

Tahil was originally given a work permit for Andrew Lloyd Webber's musical Bombay Dreams.

Since coming to the UK, he has put his 13-year-old son in an English boarding school though his wife, Amrita, continues to live in Mumbai. She visits her husband and son every few months.

Last March, the BBC headhunted him for East Enders to play Dan, the head of the first new Asian family on the soap in years. In the show, he has three sons - Ronnie, Ash and Adi - and a daughter Kareena.

As Dan, he is currently dating the Square's newest resident divorcee, Shirley Benson.

"He was given a work permit but Equity was not consulted. If we had been consulted, we would not have been in favour of a work permit for the East Enders role because many British-born Asian actors could undertake that
role," a spokesman for Equity told rediff.com.

Senior officials at the British Home Office, which handles immigration issues, subsequently wrote to the BBC asking for clarifications about Tahil's work.

Immigration officials have questioned Tahil over his two-year work permit, which is specific to his work for Andrew Lloyd Webber's stage production.

The development prompted an emergency internal at the BBC and contingency plans are being drawn up in case Tahil has to be written out of future episodes.

Embarrassed BBC officials are refusing to comment on reports speculating that Tahil could be deported.

"We're considering any potential problems with a view to resolving them as soon as possible. I have nothing further to add," said a BBC spokeswoman who reluctantly gave her name as Hanna.

Mass circulation newspaper The Sunday People quotes knowledgeable sources as saying, "This is extremely embarrassing for the BBC. If it turns out they have been employing an illegal worker then, believe me, heads will roll. They could end up having to drop Dalip and just imagine the stink if he is kicked out of the country."

As the appeals process on, immigration issues is a lengthy one, it could be months before Tahil finds out whether he can be given exceptional leave to stay.

In the meantime, he has shut himself up in his country home outside London refusing to comment on the affair.