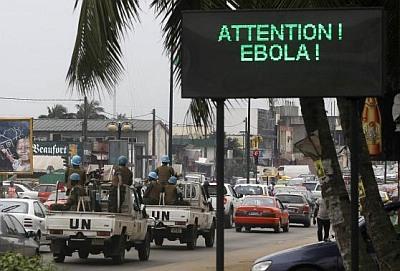 The United Kingdom on Tuesday started screening for the Ebola virus at Heathrow airport by testing the temperature of the passengers arriving from countries at risk in Britain, the first European Union country to begin such screenings.
UK health secretary Jeremy Hunt said a "handful" of cases were expected to reach the UK before Christmas as the process started at Terminal 1 of one of the world's busiest airport. It will be extended to other terminals as well as GatwickAirport and Eurostar trains by the end of this week.
The UK is the first EU country to start such screenings.
"We would like to reassure passengers that the government assesses the risk of a traveller contracting Ebola to be low," a Heathrow spokesperson said.
People flying from Liberia, Sierra Leone and Guinea will be identified by UK Border Force officers and nurses and consultants from Public Health England will then carry out the actual screening. Passengers will have their temperatures taken, complete a risk questionnaire and have contact details recorded. Anyone with suspected Ebola will be taken to hospital.
Ebola has killed more than 4,000 people in Liberia, Sierra Leone and Guinea.
In September, around 1,000 people arrived in the UK from Ebola-affected countries in West Africa.
The UK health secretary has admitted that it will be impossible to check all the 1,000 people a month arriving from the worst affected countries.
He estimates 89 per cent of passengers to the UK from Liberia, Sierra Leone and Guinea would be identified by screening at the border but the authorities are relying to some extent on travellers "self-presenting" themselves.
"Passengers identified as having any level of increased risk of Ebola, but without any symptoms, will be given a contact number to call should they develop any symptoms consistent with Ebola within the 21-day incubation period," he told the House of Commons.
Symptoms of Ebola include fever, headache, vomiting, diarrhoea and bleeding and since these are similar to more common infections like flu and some stomach bugs the screening process is likely to be a complex one.
Also, there are no direct flights to the UK from Liberia, Sierra Leone or Guinea, which means people travelling from those countries would have to catch a connecting flight to the UK and could arrive at airports that are not screening passengers.