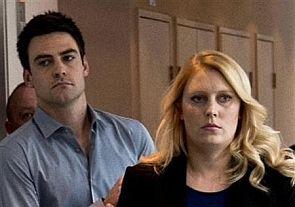 An Australian radio jockey, who took part in the infamous 2012 'royal hoax call' which led to an Indian-origin nurse committing suicide, on Tuesday spoke about her own fears as she received a series of death threats in the aftermath of the incident.
In her first television interview in the UK, Mel Grieg told BBC 'Newsnight': "I was in lockdown for months. There were bullets with our name on it sent to police stations. I have still got a stalker, a harasser, who won't stop until I take my own life, which is not going to happen."
Greig said the threats made against her as well as her mother, included a message: "Eye for an eye, you deserve to die."
"They are calling me a bully -- Look what you have done, you are a horrible person. What do you think you are doing to me by writing these tweets and telling me to end my life?" she said referring to the messages.
"I was disgusted by the death threats," Grieg said, adding, "The trolling needs to stop."
"Luckily I can handle it now, but there was a time when I could not handle it and I believed it," she added.
Greig and her colleague Michael Christian at 2Day FM made their prank call to King Edward VII's Hospital in December 2012, where a pregnant Kate Middleton was recovering from severe morning sickness.
The Sydney-based RJs pretended to be Queen Elizabeth-II and her son Prince Charles, asking about their daughter-in-law's treatment.
The call was received and transferred to the Duchess of Cambridge's ward by Indian-origin Jacintha Saldanha, who was found dead in her accommodation a few days later.
Greig had travelled to London to attend the nurse's inquest last month, at which coroner Fiona Wilcox concluded that the 46-year-old mother of two had killed herself.
The former presenter, who issued an apology at the inquest, has since resigned from Sydney-based 2Day FM and sued its owner, Southern Cross Austereo.
The company admitted that she had not been responsible for broadcasting the call and had suggested it be edited before being aired.
Greig urged anyone in broadcasting to consider the potential consequences of a prank call before making one.
Lamenting the negative publicity she received after the incident, Greig said, "I actually have a real name. It's Mel. It's not the 'royal hoax DJ', but that is now who I am."