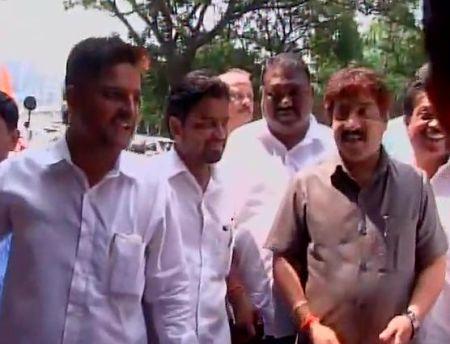 Shiv Sena chief Uddhav Thackeray on Tuesday felicitated six party workers who allegedly smeared Observer Research Foundation chairman Sudheendra Kulkarni's face with black paint to protest former Pakistan foreign minister Khurshid Mahmood Kasuri's book launch in Mumbai.
"During his meeting with these activists, Uddhavji patted them for their work," a source close to the Sena leader told PTI.
The Sena workers met Uddhav at the latter's residence 'Matoshree' in suburban Bandra this afternoon.
Sena vibhag pramukh Mangesh Satamkar reached Matoshree along with the party workers to a warm welcome. Later, they met Uddhav.
The six -- Gajanand Patil, Dinesh Prasad, Ashok Waghmare, Prakash Husbe, Samadhan Jadhav and Venkatesh Nair -- were on Monday arrested and later released.
Also read: Neither a talk nor a shove: How Kasuri lulled his audience
Meanwhile, Sudheendra Kulkarni, the chairman of ORF which had on Monday organised Kasuri's book launch event, on Tuesday described himself as an "agent of peace" and not a "Pakistani agent" as labelled by Shiv Sena and asked the saffron party to respect other people's freedom of expression.
"I have been labelled a Pakistani agent in Sena mouthpiece Saamana. I respect their freedom of expression. They should also respect others' freedom of expression," Kulkarni said at a press conference in Mumbai.
Chief Minister Devendra Fadnavis had on Monday disapproved of Shiv Sena's protests, saying the issue has brought disrepute to the state.
"We may not agree with views of somebody but when a foreign dignitary or a diplomat arrives on a valid visa and holds a programme, which is not illegal, it's the duty of a state to provide protection," Fadnavis had said.
Image: The six Shiv Sena members who blackened Kulkarni's face on their way to meet Sena chief Uddhav Thackeray. Photograph: ANI/ Twitter