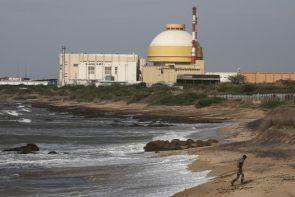 A day after an explosion at a village near the Kudankulam Nuclear Power Plant, Tirunelvei claimed six lives, police formed a team to probe it and stepped up security even as two live bombs were recovered from the area.
A special team would probe the explosion. Two live bombs had been recovered from the site, which have been sent for forensic tests, Tirunelvei Superintendent of Police Vijendra Bidari said.

Read: Bomb explosion near Kudankulam nuclear plant kills 6

A country-made bomb had gone off "accidentally" around 6.40 pm on Tuesday when some miscreants were making the explosive in their hut in Idinathakarai Tsunami colony, about 15 km from the KNPP. Among the dead were a woman and three children, all aged below five, while two persons were injured.
Police said the victims' bodies were charred beyond recognition.
Security has been tightened around the nuclear plant. The entire Idinthakarai village has been taken under police control, police said.
Meanwhile, leading anti-nuke activist S P Uthayakumar has denied any role in the explosion.
"The people of Idinthakarai or members of (anti-nuclear) struggle committee have nothing to do with this explosion. We will cooperate with police and other government officials," he said.
People's Movement Against Nuclear Energy has been spearheading protests for more than two years against the Indo-Russian joint venture in Tamil Nadu's Tirunelveli district demanding its closure, citing safety concerns following the Fukushima disaster in Japan in 2011.
Unit-1 had attained criticality on July 13 this year.