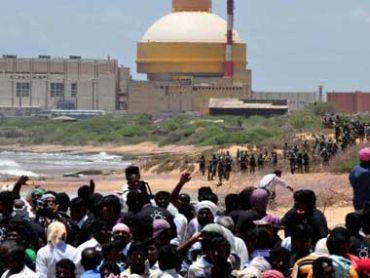 A bomb explosion at the Idinthakarai coastal village in Tirunelveli district in Tamil Nadu has killed six people, including three children, who were all aged below five. The blast site is close to Kudankulam Nuclear Power Plant.
According to police sources, It was a country-made bomb kept at one of the residences that exploded.
Ruling out a terror attack, sources say that the bomb was in one of the houses which is part of the Tsunami disaster relief colony. The bomb is said to have gone off accidentally. The entire house was destroyed in the explosion.
A Home Ministry spokesman said in New Delhi that the country-made bomb went off "accidentally" when some miscreants were making the explosive in their hut at around 1840 hours in Idinagarai Tsunami colony, about 15 km from the nuclear power plant.
Three children playing outside the house were killed on the spot while two men and 1 woman sustained severe injuries and succumbed to it an hour later.
The police, along with the bomb and dog squads have reached the spot and are probing into the matter. It is still unclear as to why the house had a country-made bomb inside it. Investigations are still on and at the moment no more casualties have been reported.
A senior official of the Department of Atomic Energy said the plant is running fine and is safe.
Two houses were razed under the impact of the blast, they said, adding rescue teams rushed to the pot to clear the debris and extricate people believed trapped under it.
Bomb disposal squad and investigation teams rushed to the spot, along with DIG of Police Sumith Saran and Superintendent of Police Vijendra Bidari. People of Idinthakarai, the hub of protests against KNPP, backed by People's Movement Against Nuclear Energy, have been agitating for more than two years, demanding its closure.
Unit-1 had attained criticality on July 13 this year following protests against the project by anti-nuclear activists in areas around the complex, citing safety reasons.
Police had raided Kunthankuli village near Idinthakarai in 2012 and early this year and seized some country bombs from some huts.
Police suspect that some people involved in criminal cases from Kunthankuli were staying in the two houses.
Image for representation only
With inputs from PTI