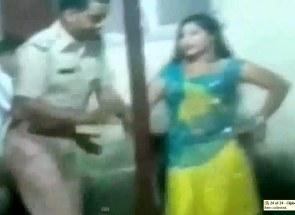 Two policemen in uniform in Gujarat were caught on camera dancing with a woman and showering currency notes on her at a wedding function Vadodara, prompting police authorities to order a probe.
The video of the two on-duty cops shaking a leg at the festivities which took place around 10 days ago also went viral on Thursday. City Police Commissioner E Radhakrishana has ordered an inquiry against the two policemen, posted at city's Kishanvadi police station.
In the video, the two men were seen dancing with a woman at a marriage function and showering currency notes on her, Joint commissioner of Police (Crime branch) D J Patel, told PTI. The names of the two cops were, however, not released.
In the 2.12-minute video, the two policemen were first seen holding the hand of the woman, attired in a black shimmering outfit while an old Hindi film song was heard in the background.
One of the cops was then seen dancing to the song with the woman while the other was seen showing currency notes to the woman. Later they both started showering notes on her.
The video surfaced last night and was shared on mobile messaging app and other social media websites. Some people at the event were seen recording the act on their cell-phones.
According to sources, the incident occurred in Ajwa road area in the city during marriage of a policeman's daughter. The police said that they will take appropriate action against the erring policemen after the inquiry is completed.
Dancing in uniform indicates that the cops were on duty and it surely amounts to an act of indiscipline, the police said.