Tushar Gandhi, author and great-grandson of Mahatma Gandhi, on Friday said he has filed a private criminal suit in a court in Pune against Hindutva leader Sambhaji Bhide for his "defamatory" remarks against the Father of the Nation.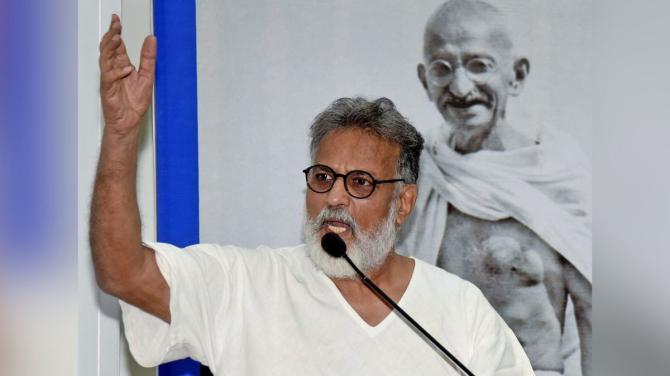 Gandhi said he, through his lawyer, has also filed a complaint in the district and sessions court in Shivaji Nagar against the Pune police for not acting on his application submitted in the Deccan Gymkhana police station last month, seeking action against Bhide.
"It is unfortunate that the police are forgetting their duties and working under political pressure," he told reporters in reply to a question.
Gandhi maintained when he submitted the complaint application against Bhide, the police said they would seek legal opinion before moving forward in the matter.
"Since then they have been just dilly-dallying and did not give any concrete reason (for not filing a case against Bhide). Since no action was taken on our application, we had to approach the court and file a complaint of defamation against Bhide," he said.
Gandhi, along with his advocate and some others, had visited the Deccan Gymkhana police station and filed a complaint against the right-wing leader, seeking registration of a case against him under IPC Sections 153A (promoting enmity between different groups), 499 (defamation) and 505 (statements conducing public mischief).
"Bhide made derogatory remarks not just against Bapu, but also against his family," Gandhi had then said.
Bhide is accused of making offensive remarks about Mahatma Gandhi's lineage while speaking at a programme in Amravati district in eastern Maharashtra in the last week of July.
Following his remarks, first information reports were registered in Amravati and Nashik against Bhide, the founder of the Shri Shiv Pratishthan Hindustan outfit.