Democratic presidential candidate Hillary Clinton holds a slim lead over her Republican rival Donald Trump, a new poll shows just over a week before the epic United States presidential election.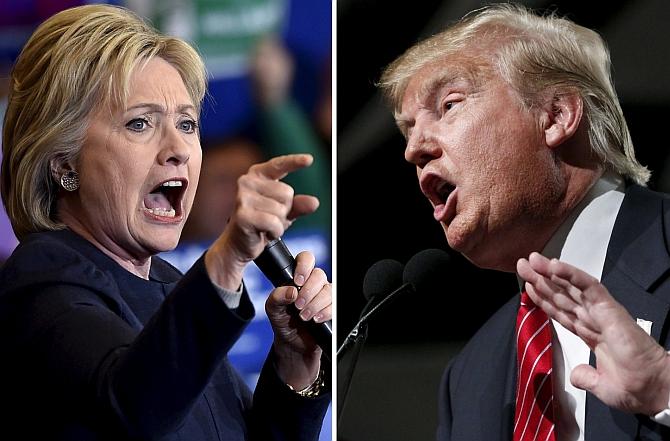 An ABC News/Washington Post tracking poll released on Sunday showed the Democratic presidential nominee Clinton ahead 46 per cent to 45 per cent -- narrower than Saturday's 2-point Clinton edge.
In CNN's Poll of Polls, which averages results for the five most recently released national surveys, Clinton has a 47 per cent to 42 per cent advantage over the Republican presidential candidate Trump. That outcome was unchanged from the most recent Poll of Polls on Saturday, CNN reported ahead of the November 8 presidential election.
The ABC/Washington Post poll found that more than 6 in 10 voters say the news that the FBI is investigating newly discovered emails that could be related to Hillary Clinton's private server will make no difference in their vote, while 3 in 10 say it makes them less likely to back Clinton.
FBI Director James last week announced that the agency had discovered additional emails and is reviewing them to see whether they are related to the bureau's investigation into Clinton's handling of classified information.
Meanwhile, a new set of battleground state polls have placed Clinton ahead of Trump.
In North Carolina -- a must-win state for Trump -- an NBC/Wall Street Journal/Marist University poll found Clinton ahead, 47 per cent to Trump's 41 per cent. The same poll found Clinton ahead 48 per cent to 43 per cent in early October.
In Florida, an NBC/Wall Street Journal/Marist University survey shows a dead heat -- with Clinton at 45 per cent and Trump at 44 per cent, a one-point drop for Clinton since the same poll's last results in early October, when Clinton led 46 per cent to 44 per cent.
Meanwhile, a New York Times Upshot/Siena poll found Trump ahead -- 46 per cent to 42 per cent -- in Florida. The same poll had found the candidates even at 43 per cent apiece in September.