'I'm a big fan of Hindu and a big fan of India -- big, big fan,' the Republican presidential candidate told Hindu Americans in Edison, New Jersey.
George Joseph reports.
Photographs: Paresh Gandhi/India Abroad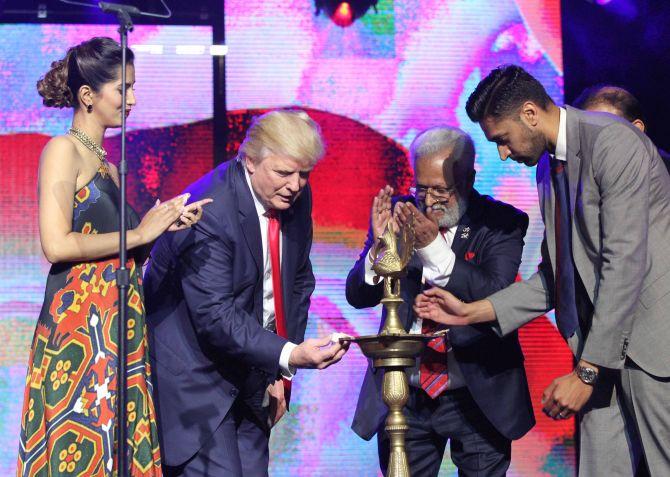 IMAGE: Donald Trump lights the ceremonial lamp to inaugurate the event in Edison, New Jersey, October 15, 2016.
Republican presidential candidate Donald Trump's 15-minute speech mesmerised the 5,000-strong Indian-American audience at the Republican Hindu Coalition meeting at the Raritan Center in Edison, New Jersey.
Many people who came to witness the cultural show and see Indian film stars including actor-director Prabhudeva, Shriya Saran and Sophie Choudhury left the venue as Trump fans after his speech.
Trump appeared unusually relaxed, smiling away, seemingly impressed with the turnout and response.
Many people stood during Trump's speech, waving signs which said 'Trump great for Hindus', 'Trump for Hindu Americans,' 'Trump against terror.'
Trump spoke on his favourite themes, reiterating his promise to build a wall along the US-Mexico border, curb terrorism and lower taxes.
He also promised that India would become the best friend of the US if he is elected.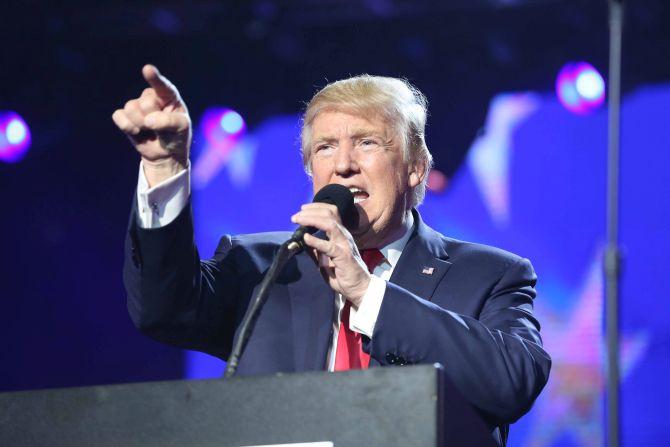 IMAGE: 'I am a big fan of Hindu and India,' Donald Trump told the 5,000-strong audience.
I'm a big fan of Hindu and a big fan of India -- big, big fan."
'Let me start by stating right up front that if I'm elected president, the Indian and Hindu community will have a true friend in the White House. That I can guarantee you.'
'Rasmussen polls have put us ahead in the polls,' he said and, turning to Shalabh 'Shalli' Kumar, the founder chair of the Republican Hindu Coalition, said, 'He is a great guy and a good friend.'
Trump said he was involved in two majoyr real estate projects in India, and that he has great confidence in the country.
He went to India 19 months ago and wants to go again many, many times, he said. Generations of Hindus have strengthened America, he declared. 'Your hard work, enterprise and education have enriched America and we will be celebrating a Trump administration together.'
The evening's theme was 'Humanity Against Terror', and focused on the Kashmiri Pandits and Bangladeshi Hindu victims of terror. Actor Anupam Kher sent a video message on the plight of Kashmiri Pandits forced to flee their homes in the Kashmir valley.
Former US speaker Newt Gingrich in a video message described the Republican Hindu Coalition as an 'important building block for the future of America.'
IMAGE: Donald Trump with Shalabh 'Shalli' Kumar, founder chair, Republican Hindu Coalition.
Among the things Trump said were:
'A Trump administration will massively lower taxes. We will repeal and replace the job killing Obamacare, which is a disaster.'
'We cannot have prosperity without security. India has been a great friend in the fight against radical Islamic terror, a term that our president will not use, a term crooked Hillary will not use.'
'India has seen the brutality of terrorism and cross-border violence including the attack in Mumbai. Mumbai is a place I love, I understand. The attack on (the) Indian Parliament was outrageous and terrible. We will defeat radical Islamic terrorism.'
'When I am president I will work shoulder to shoulder with India and share intelligence. It is very important in the age of ISIS, the very threat Hillary Clinton has unleashed on the world. I am looking at increasing the diplomatic and military relations.'
'India is the world's largest democracy and a natural ally of the US. In a Trump administration we will make it even better, we are going to be best friends.'
'We love you, lots of love.'
'I am looking forward to working with Prime Minister Narendra Modi, who has been very energetic working to reform the Indian bureaucracy. Great man, I applaud him and look forward to do some serious trimming in the US bureaucracy.'
'Americans have been asking to trim the ways of the government. The politicians cannot do it. I promise that I will do it.'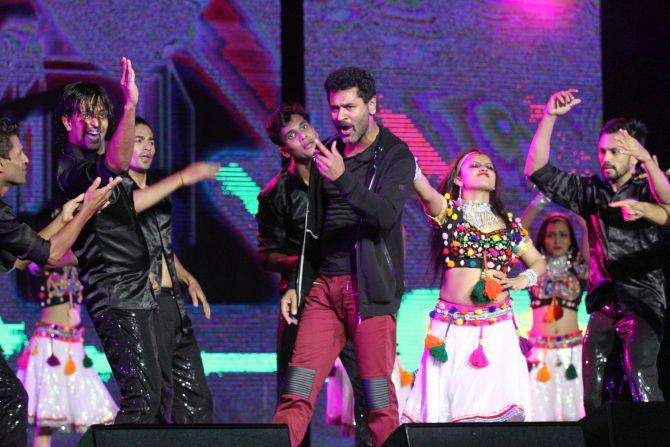 IMAGE: Entertainers including Prabhudeva performed at the event.
'The wasting of taxpayers' money in the US should come to an end. We are going to fix this corrupt bureaucracy.'
'Hillary has not the energy, right now she is resting, waiting for the debate on Wednesday night. The last debate was an easy one.'
'Your great prime minister is a pro-growth leader for India. He simplified taxes and the economy is growing 7 percent a year, excellent. Our economy is practically not growing, just about zero. Also, very very bad jobs report.'
'If I am elected we are going grow again and grow very fast. My plan will add 25 million new jobs. We will make America the greatest place to invest in, create new jobs, and new technologies.'
'First we will cut taxes for all working and middle class households. We have seven brackets. We are going to bring it down to three, with low income Americans paying no income tax at all. There will be a massive tax simplification. We waste nine billion over tax complaints. That ends under a Trump administration.'
'Business tax reform is at the centre of our tax reform. We have the highest tax rate, 35 percent now. We are going to bring it down to 15 percent, to make one of the lowest in the world.'
'Every year over-regulation costs our economy two trillion dollars, reducing household wealth by $15,000. I will ask department heads to identify job killing regulations and they will be eliminated. Some of the finest regulations will go, go fast.'
'Job killing restrictions on American energy will go. My energy reforms will add at least half a million new jobs and also lower the prices of energy bills of all Americans.'
'Finally we must fix our terrible trade deals and protect America's intellectual property.'
'America's annual deficit is 800 billion dollars. China is stealing our intellectual property. Officials say that China stole intellectual property worth of $360 billion.'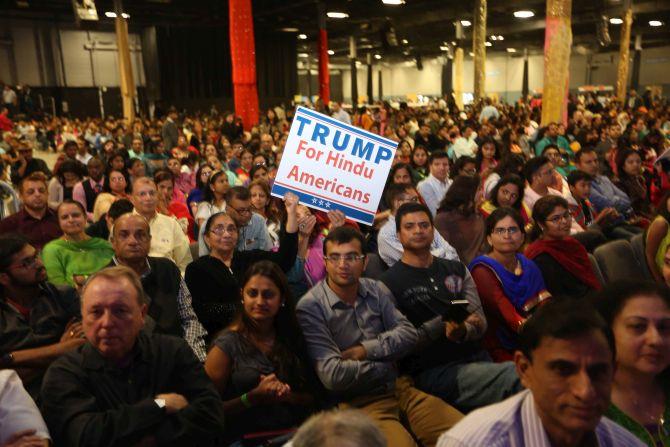 IMAGE: Around 5,000 people attended the event.
'We are going to have strong walls. We are going to stop drugs pouring into our county. The wall will be built, Mexico will pay it. We are going to end the great relationship with China and Mexico. We are going to have great relationship with India.'
'We are going to have a great society again, we will keep the Second Amendment, eliminate Common Core in education, and bring the education low cost.'
'We believe in free trade. But the trade deals are not fair for our country. We are going to change that.'
'We are going to have a phenomenal future together. America is going to be once again a country that people will respect. We will be wealthy again. We will be strong again. We will be powerful and we will be smart. Our military will be fixed. America has to lead through strength.'
'We will produce jobs, we will bring back companies. And will make America great again.'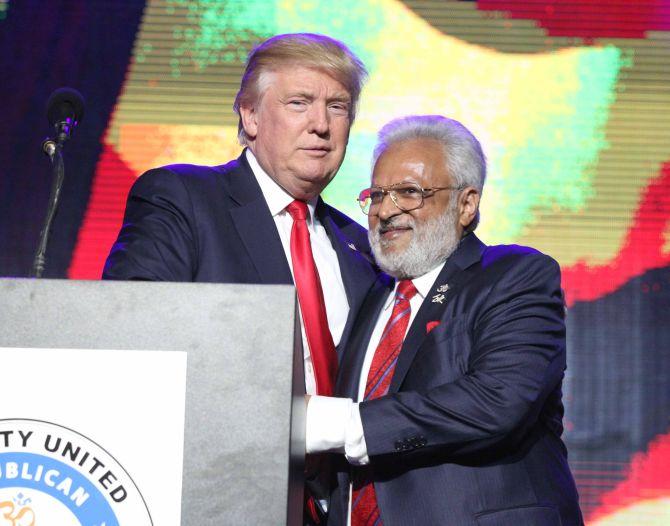 IMAGE: Shalabh Kumar thanks the audience.
After Trump finished his speech he walked away from the lectern and waved to the crowd, before coming back for a short encore.
'We love the Hindus, We love India,' Trump said before walking off the stage for good.