Veteran journalist Kamal Khan, who was associated with NDTV for over 30 years, died of a heart attack on Friday morning. He was 61.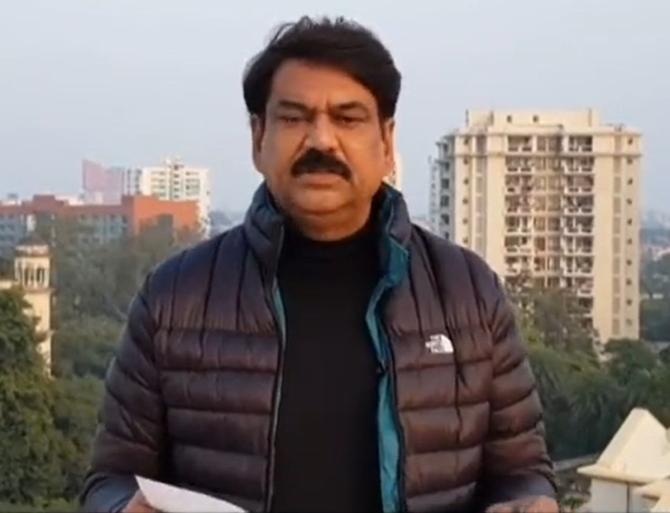 Khan was at his residence in Lucknow when he suffered the heart attack. He is survived by his wife and son.
Khan was known for his balanced reporting, mostly from Uttar Pradesh as he was based in Lucknow. For his journalism, Khan received the Ramnath Goenka Award in 2010.
In an email about its executive editor's death, NDTV said, 'It is a terrible, terrible day for NDTV. We have lost Kamal Khan; he was 61 and the heart and soul of our Lucknow bureau, an NDTV veteran who had boundless time and kind words for anyone who encountered him.'
Several journalists and politicians across party lines paid tributes to Khan.
A statement from UP Chief Minister Yogi Adityanath's office said, 'Yogi Adityanath ji has condoled the death of senior journalist Kamal Khan. Praying for the peace of the departed soul, the Chief Minister expressed his condolences to the bereaved family members.'
Samajwadi Party chief Akhilesh Yadav tweeted, 'The passing of Kamal Khan ji, who emerged as a serious voice of journalism, is very sad! The deep voice of his truth will always remain... My heartfelt tribute!'
'Shocked to hear about the passing away of senior journalist Kamal Khan ji. I met him just a few days ago and we discussed many thing. He kept alive the values of truth and public interest in journalism. My deepest condolences to his family members,' tweeted Congress general secretary Priyanka Gandhi Vadra.
Her brother and Congress MP Rahul Gandhi wrote, 'The news of Kamal Khan's demise is sad. He was a good and respected journalist. My condolences to his loved ones.'
Delhi Chief Minister Arvind Kejriwal, Jharkhand Chief Minister Hemant Soren, Union Minister Hardeep Singh Puri and Bahujan Samaj Party leader Mayawati were among others who paid their tributes to Khan.