M D Riti remembers Gauri Lankesh, the courageous journalist who was murdered in Bengaluru on Tuesday night.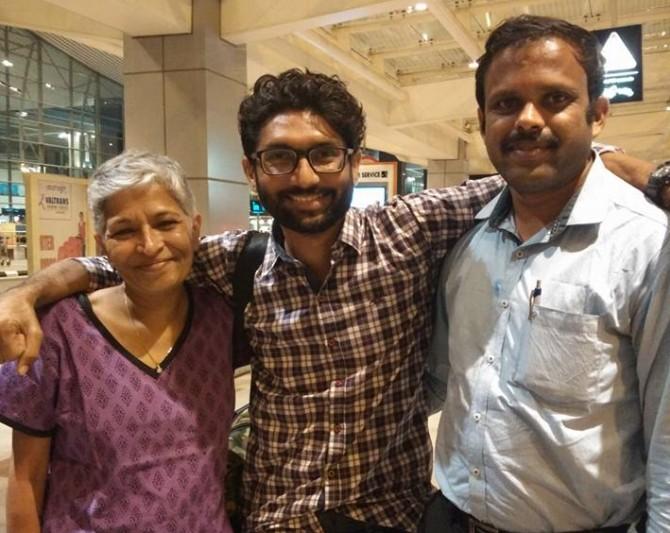 The first time I met Gauri Lankesh was on a train to Delhi. My first impression of her was of a petite, slim, short haired young woman in jeans, who kept going to the door of the train or to the window to smoke.
She was on her way back to a new term at the Indian Institute of Mass Communication from Bangalore, whereas I was with my classmates from the PG department of Journalism and Communication on a field trip to Delhi.
Many of my classmates knew her from her undergrad days, and so we sat for a while in her compartment and talked. We were exactly contemporaries in terms of graduating year and class, though she was a couple of years older than me.
I still remember a conversation in which she spoke of how she had to escape the watchful eyes of her father P Lankesh, a man known for his poetry, his stories and his liberal views, even as he was a conventional and conservative father.
Gauri had to actually smoke in toilets, and somehow escape her home to meet her then beau. It all sounded very daring and exciting to a rather shy me, fresh out of all-girl nun-run schools and colleges, where I was the nuns' poster girl for good behavior!
The next time we met, we were both professional journalists. She had taken the conventional route of a job in the most upcoming media house in Bangalore while I was a busy freelancer for magazines in Bombay by choice.
Then, I landed a job in the same media house, and there began a period where we were rivals who disliked each other strongly, purely because of professional rivalry.
We spent the next decade as correspondents of different rival weekly news magazines. We would come across each other in prominent politicians' houses, Gauri in her trademark jeans and tuck in shirts, confidently talking to politicians, and me in demure sarees and salwar kurtas, trying hard to be accepted in the political milieu that she was perfectly comfortable in.
The years passed by, and so did Lankesh, and Gauri suddenly took over her father's weekly.
This was quite a surprise to many of us, to whom Gauri was the archetypal English language journalist.
How would she be able to edit and lead a Kannada magazine week on week, we all wondered. So did Gauri, as Kannada writing was certainly not her forte, as she herself said.
But she took on this role with characteristic confidence and courage, and finally, we moved from being professional rivals to suddenly being good friends.
I spoke to her on her journey, we had dinner together at her lovely home in Rajarajeswarinagar and the journey went on. I quit professional journalism and became a businesswoman.
Somewhere along the way, we also became gym buddies. Gauri would do a rigorous two hours of non stop aerobics every evening, and the plump young mother that I was by then wondered how she had the stamina for it!
That came to a stop when she took over Patrike, as an editor can never be away from the office in the evening.
Gauri greyed gracefully, the taut, super hot and slim body filled out a bit and the attire changed to kurtas. And the woman inside reached a new level of maturity and personal growth.
Gauri and I last communicated a few weeks ago when she suddenly pinged me, and remarked that it was time we met. I agreed at once, and was just thinking that in the next lull from business, which would be in the Dassera holidays, I must visit her, after over a decade.
I cannot believe that I will actually never see her again.
IMAGE: Gauri Lankesh, left, posted this photograph on Facebook, noting: 'Send off at Bengaluru airport to Jignesh Mewani tonight. Myself, Jignesh and Harshakumar Kugwe. Jignesh loved the sea food dinner that I hosted for him. He also loved the gifts he got (they are not much, just a shirt, a t shirt and a pair of trousers :-( . all in the colour blue by the way) from me, his Kannadati mother.'
M D Riti is a long time contributor to Rediff.com