The women's reservation bill, introduced in Lok Sabha on Tuesday, will have to cross several hurdles before it becomes a reality, including support cutting across political lines and early census and delimitation exercise.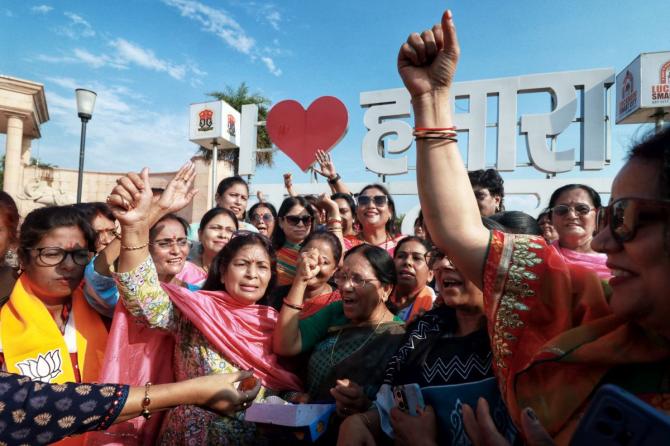 The provisions in the Constitution (128th Amendment) Bill make it clear that the women's reservation will come into effect only after the delimitation exercise or the redrawing of constituencies taking into account the data of the census conducted once the bill becomes a law.
Constitutional experts said after the passage of the Bill by both Houses of Parliament, it will also have to be approved by at least 50 per cent of state assemblies to become a law.
The nod by state assemblies is necessary as it affects the rights of the states.
The Bill '...shall come into effect after an exercise of delimitation is undertaken for this purpose after the relevant figures for the first census taken after the commencement of the Constitution (One Hundred and Twenty Eighth Amendment), Bill 2023 have been published, and shall cease to have effect on the expiration of a period of 15 years from the date of such commencement', reads new Article 334A the draft legislation seeks to introduce in the Constitution.
According to Article 82 of the Constitution, as amended in 2002, the delimitation process can be carried out based on the first Census taken after 2026.
The first Census after 2026 was to be carried out in 2031, which would be followed by delimitation or redrawing of constituencies.
The 2021 census exercise was postponed by the government in the wake of the COVID-19 pandemic.
It will have to be put on a fast track by the government for the Women's reservation to be turned into reality before the 2029 Lok Sabha elections.
In 2011, the census was carried out in February-March and the provisional figures were released on March 31 that year.
Another concern voiced by experts is that women may become figureheads with their husbands wielding the real power, as has been witnessed at the panchayat levels.
The purpose of the legislation to uplift women would be defeated if the elected representatives under the quota were from the same families where male members are in politics, said Shilpi Jain, a prominent lawyer.
"There could be a provision to encourage women who are not from political backgrounds to contest, otherwise the purpose would be defeated by reservation," she said.
Shabnam Hashmi, women's rights activist and founding trustee of Left-leaning NGO Anhad, said a large number of women were asserting themselves.
"At the MLA and MP levels, there would be a difference. She would need to establish herself at the constituency level, she will need to be more assertive and more dependent on herself rather than the family," she said.