Sushma Swaraj passed away into the ages on Tuesday night after suffering a massive cardiac arrest.
Paying tribute to her, Prime Minister Narendra Modi said she was a prolific orator and outstanding Parliamentarian.
As we mourn her loss, here's a look at the most memorable quotes from her address at the 73rd session of the United Nations General Assembly in September 2018.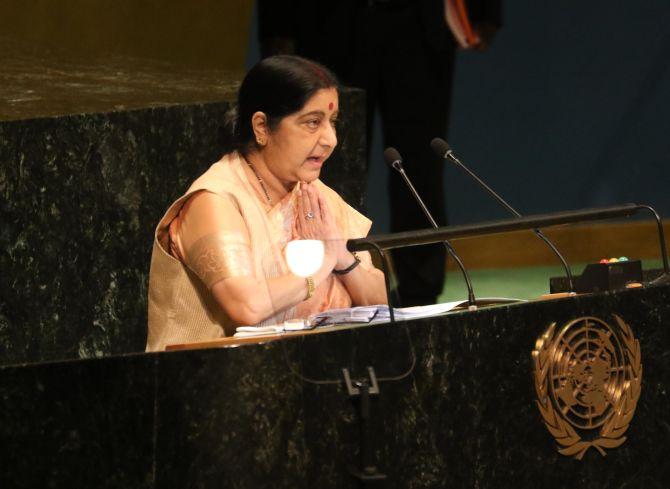 1) The world's biggest challenge comes from the threats of climate change and terrorism. In India's case, terrorism is not bred in some faraway land, but from across our border.
2) Who can be a greater transgressor of human rights than a terrorist? Those who take innocent human lives in pursuit of war by other means are defenders of inhuman behaviour, not of human rights. Pakistan glorifies killers; it refuses to see the blood of innocents.
3) We believe that talks are the only rational means to resolve the most complex of disputes. Talks with Pakistan have begun many times. If they stopped, it was only because of Pakistan's behaviour.
4) Even as the perpetrators of the 9/11 terror attacks in New York met their fate, Swaraj said the mastermind of the 2008 Mumbai terror attack Hafiz Saeed still roams the streets of Pakistan with impunity.
5) America had declared Osama bin Laden it's most dangerous enemy, and launched an exhaustive, worldwide search to bring him to justice. What America perhaps could not comprehend was that Osama would get sanctuary in a country that claimed to be America's friend and ally: Pakistan
6) What is heartening is that the world is no longer ready to believe Islamabad.
7) If we have to save the world from the adverse effects of climate change, then developed nations must lift the deprived with financial and technical resources.
8) The UN must accept that it needs fundamental reforms. If the UN is ineffective, the whole concept of multilateralism will collapse.
9) The UN is biggest platform for all nations. But slowly, its significance, effect, dignity & use is being reduced. We should worry that we don't meet the same fate as League of Nations. Their descent was caused as they were not ready for reform. We shouldn't repeat that mistake.
10) India believes that the world is a family, and the best means of resolution is shared discourse. A family is shaped by love and is not transactional; a family is nurtured by consideration not greed; a family believes in harmony not jealousy. Greed breeds conflict; consideration leads to resolution. That is why the United Nations must be based on the principles of the family. The UN cannot be run by the 'I', it only works by the 'We'.