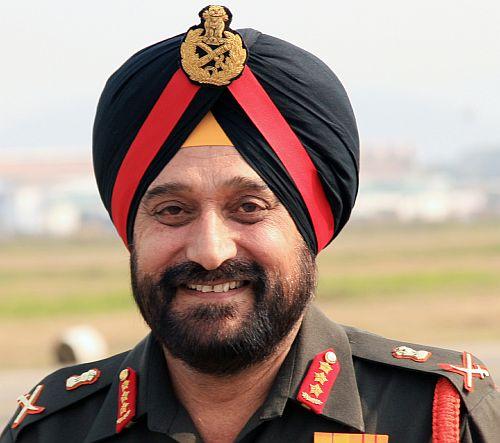 Officers at Army headquarters say the chief Gen Bikram Singh has personally initiated this reshuffle, reports Ajai Shukla
On Monday, more than half the Indian Army's top commanders were shifted around in what many top generals and analysts consider a motivated and unnecessary reshuffle. The crucial Northern, Western and Central Commands now have new commanders, as do the Integrated Defence Staff and the army's training command.
Officers at army headquarters say the Army Chief, General Bikram Singh, has personally initiated this reshuffle to push through a promotion policy in which quotas, not merit, would govern the selection of brigadiers and generals.
The Indian Army, like professional Western armies, has traditionally selected its senior officers based on their career records alone. Until recently, that is, when vacancies in the rank of Brigadier started being distributed between arms (infantry, artillery, armoured corps, etc) on a "pro rata" basis, ie, in proportion to the number of officers in each arm. Now, Gen Singh wants to extend this to the next rank, ie, Major General.
Officers who want meritocracy at senior ranks call this "Mandalisation" of a professional army. The official term for it is "pro rata" promotion.
Senior most among those shifted out is a resolute opponent of "pro rata", former Central Army Commander, Lt Gen Anil Chait. At the Army Commanders' Conference, the army's only consultative check on the chief's otherwise arbitrary power, Chait had pushed for the rollback of "pro rata" for brigadier vacancies, and blocked its extension to Major General rank. But Chait had been sidelined with his posting as chief of the Integrated Defence Staff. He is no longer an army commander.
The "pro rata" policy has been propagated by an unbroken series of army chiefs from the infantry and artillery, which benefit most from "pro rata" -- Gen N C Vij (infantry); Gen S Padmanabhan (artillery); Gen J J Singh (infantry); Gen Deepak Kapoor (artillery); Gen V K Singh (infantry); and Gen Bikram Singh (infantry).
The infantry has the largest number of officers, and already benefits from "pro rata": a corresponding number become Brigadiers, regardless of merit. Extending "pro-rata" to Major General rank would extend reservations up the promotion ladder. Benefiting similarly is the artillery, the second-largest arm.
The big loser is the armoured corps -- the army's key strike arm -- that has traditionally produced more Brigadiers and Generals than its small officer strength might suggest. Another loser would be the mechanised infantry, whose high-calibre Brigadiers would be denied promotion because of its small quota of major general vacancies.
Replacing Chait in Lucknow is the newly promoted Lt Gen Rajan Bakshi, who was in command of the Leh-based 14 Corps, where he successfully handled the recent Chinese intrusion in Daulat Beg Oldi. Bakshi, an armoured corps officer, was well placed to take over command of the Udhampur-based Northern Army, on Lt Gen K T Parnaik's retirement on Sunday. But that would have meant two armoured corps army commanders -- Chait and Bakshi -- would have opposed "pro rata". Replacing Chait with Bakshi, and posting Chait as CISC, has defanged that opposition.
Apparently, Singh cited Bakshi's armoured corps background to block him from commanding the Northern Army, involved primarily in infantry operations. This, after Bakshi successfully commanded the infantry-predominant 14 Corps, including handling the Daulat Beg Oldi intrusion.
The army said it was not considering the extension of "pro rata" to Major General rank. It said Lt Gen Anil Chait's posting as CISC "has been in the organisational interest."
During his eventful last days in Lucknow, Chait had earned plaudits for his handling of the recent Uttarakhand natural disaster. But ministry of defence officials said the army chief had told Defence Minister Antony that Chait was close to Mulayam Singh Yadav and, therefore, must be shifted from Lucknow.
Farsighted infantry and artillery generals like former Northern Army Commander, Lt Gen (Retd) Rostum Nanavatty, believed that "pro rata" would drag the army into mediocrity. "I opposed this proposal at every forum. How are we going to get the best commanders if we are allocating quotas at the highest rank? Every step we take in this direction will be a mistake," said Nanavatty.
To command the Northern Army, another well-settled Army Commander, Lt Gen Sanjiv Chhachra, who has commanded the Western Army for almost a year, has been shifted to Udhampur. Chhachra is an infantryman, as are the Eastern Army Commander, Lt Gen Dalbir Singh; and Lt Gen Gyan Bhushan, who heads the South-western Command.
Even after sidelining Chait, the "pro rata" policy might still encounter resistance if army commanders from the mechanised infantry dig in their heels. These are Lt Gen Philip Campose, who has taken over the Western Army at Chandimandir; Lt Gen Sanjiv Madhok at the Army Training Command at Shimla; and Lt Gen Ashok Singh, who heads the Southern Army in Pune.
The MoD has the final word on changes to promotion policy. However, it has not questioned or blocked the "pro rata" policy at Brigadier rank.