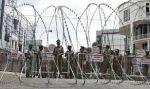 Stepping up pressure on the United Progressive Alliance government on the Sri Lankan Tamils issue, Tamil Nadu on Wednesday demanded that India move a resolution in the UN Security Council for a referendum for separate Tamil Eelam and stop calling Colombo a friendly nation.
The Tamil Nadu Assembly unanimously adopted a resolution urging the Centre to slap economic embargo on Colombo till the "suppression" of Tamils was stopped and those responsible for "genocide and war crimes" faced an international probe.
Moving the resolution, Chief Minister Jayalalithaa said the ongoing students protest was reflective of her government's initiate on the Sri Lankan issue even as she requested them to withdraw the stir and resume classes.
Launching a tirade against the Centre and DMK, she alleged that both had "failed" to ensure ceasefire in 2009 when hostilities were at the peak in Sri Lanka.
She charged DMK supremo Karunanidhi with adopting "duplicity" on the issue and said people were aware of it. Her remarks drew vociferous protests from DMK members.
Speaker P Dhanapal ordered for eviction of agitated DMK members when his plea for restoration of order in the House went unheeded.