The North Korean dictator, Kim Jong-un, loves food and that fact is amply being displayed with new photographs revealing a rounder him.
Looking a little round there? North Korean leader Kim Jong Un visits Farm No. 1116. Photograph: KCNA/Reuters
New images released by the Korea Central News Agency show the portly North Korean dictator looking more overweight than ever as he offers "field guidance" on a state farm.
Wearing a Panama hat and a pinstripe suit with the jacket undone, the 32-year-old was sporting a noticeably more expanded girth and looked far better fed than those around him. His rounded stomach -- no doubt linked to his love of rich food and French brandy -- has sparked health fears.
Kim has been stacking on the kilos ever since he inherited North Korea after the death of his father, Kim Jong-il, in December 2011. Additionally, his long absence in September last year, had everyone curious about his whereabouts and health.
And when he did emerge, he walked with the aid of a cane and a limp.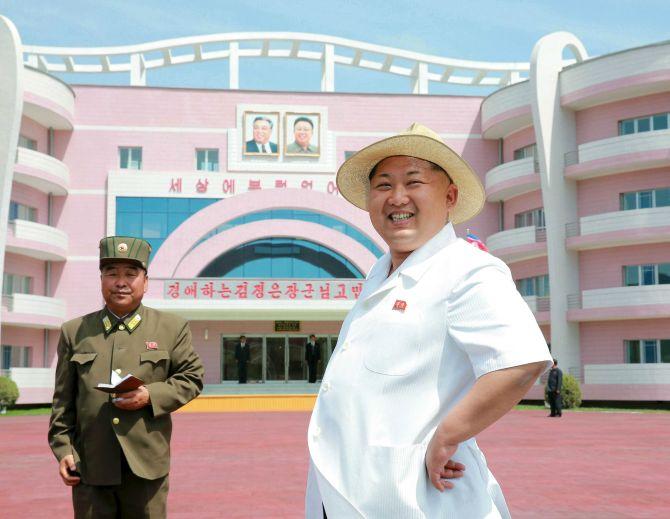 The North Korean dictator is know to have a liking for rich food and brandy. Photograph: KCNA/Reuters
Kim appears to also have inherited his father's health problems linked to his diet. Kim Jong-il's sudden death was put down to high blood pressure and diabetes linked to his appreciation of expensive French brandy and fine cuisine.
Analysts say that the North Korean dictator's weight gain should be monitored, because if he is perceived to be physically ailing then a faction with designs on the regime might consider the time ripe for an uprising.
Perhaps he should call his good buddy and former basketball champ Dennis Rodman and get some workout tips.