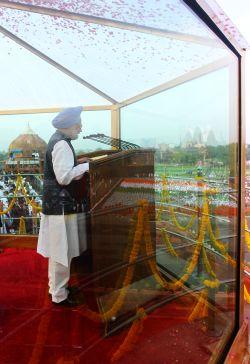 In a strong message to Pakistan, Prime Minister Manmohan Singh on Thursday said anti-India activities emanating from there will have to stop for relations to improve and asserted that all steps will be taken to prevent "dastardly" acts like the recent killing of jawans on the LoC.
Read Dr Manmohan Singh's full I-Day speech here
WATCH! PM unfurling the national flag from Red Fort
Addressing the nation on the 67th Independence Day from the ramparts of Red Fort, the Prime Minister said terrorist and Naxal violence in the country have reduced but the area of national security calls for constant vigil.
India, he said, has strived for friendship with its neighbouring countries. "However, for relations with Pakistan to improve it is essential they prevent the use of their territory and territory under their control for any anti-India activity," he said.
Referring to the August 6 killing of five Indian soldiers by Pakistan Army in a cross-LoC attack in Poonch sector of Jammu and Kashmir, he termed it as a "dastardly" act and said "we will take all possible steps to prevent such incidents in the future."
In his 30-minute speech, Singh also appeared to target the BJP and Gujarat Chief Minister Narendra Modi, saying there was no place for "narrow and sectarian ideologies" in modern, progressive and secular India.
He warned such ideologies will "divide" society and "weaken our democracy".
"We should prevent them from growing," he said.
Singh, in his 10th consecutive Independence Day address and his last before the 2014 Lok Sabha elections, stressed that there was a need to strengthen secular traditions to promote tolerance.
"I would appeal to all political parties, all sections of our society and public at large to work in this direction," he said.
In an apparent reference to the controversy over poverty figures, the Prime Minister said measuring poverty is a "difficult task".
"There are diverse views about what constitutes poverty. But whatever definition we may adopt, it cannot be denied that the pace of reduction in poverty has increased after 2004," he said.
On the issue of development, Singh said many states which had been considered backward for a long time are now progressing rapidly.
As the Lok Sabha this week failed to discuss the National Food Security Bill for two consecutive days due to disruptions over Telangana issue, Singh hoped that the legislation will be passed shortly.
"The Food Security Bill is now before Parliament and we hope it will be passed shortly," he said pointing that the proposed law will benefit 75 per cent of rural population and half of urban population.
Under the law, about 81 crore Indians would be entitled to receive rice at Rs 3 per kg, wheat at Rs 2 per kg and coarse grains at Re 1 per kg.
On the issue of education for all, the Prime Minister said almost all children in the country are being imparted education in primary schools after the Right to Education Act came into being.
He said while the number of youth going to colleges has more than doubled in the last 9 years and new schemes have been implemented to provide scholarship for the needy, "much still remains to be done for reforming our education system.
"Many of our schools still lack drinking water facilities, toilets and other necessary infrastructure. There is a need to improve the quality of education. To achieve this, it is necessary to lay more emphasis on training of teachers," he said.
Image: PM Manmohan Singh addressing the nation from Red Fort
Photograph: Reuters