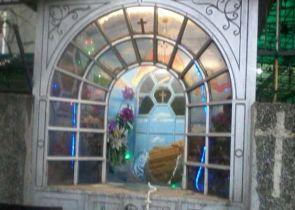 A church was vandalised by two unidentified men in west Delhi's Vikaspuri area in the wee hours on Wednesday.
The incident, which took place at 4:19 am, was caught on CCTV camera. Police have registered a case at Vikaspuri police station and efforts are on to nab the attackers, police said.
"At 4:19 am, two persons came on a motorcycle and one of them entered the church's premises and broke a glass pane. He is seen leaving in the footage only to return a minute later and pulling down a statue," said Assistant Father Balraj of Our Lady of Graces Church where the incident took place.
The incident came to light around 6:30 am when Balraj reached the church.
"A police team led by senior officials soon rushed to the spot. A crime and forensics team picked circumstantial evidence from the crime scene. We have recorded the statements of Father Balraj and other people and a case has been registered," said a senior police official.
Police have taken the CCTV footage in its custody and efforts are on to identify and nab the two persons.
The incident comes more than a month after a mysterious, early morning fire destroyed St Sebastian's Church in DilshadGarden, prompting allegations of foul play by Christian groups.