The famous Thrissur Pooram festival concluded on Monday without any incident after the major attractions of procession of elephants and fireworks display, amid tight security in the wake of the Kollam temple tragedy and guidelines by Kerala high court for its conduct.
Unprecedented security and disaster preparedness had been put in place for the smooth conduct of the last 36-hours of the seven-day Pooram festivities.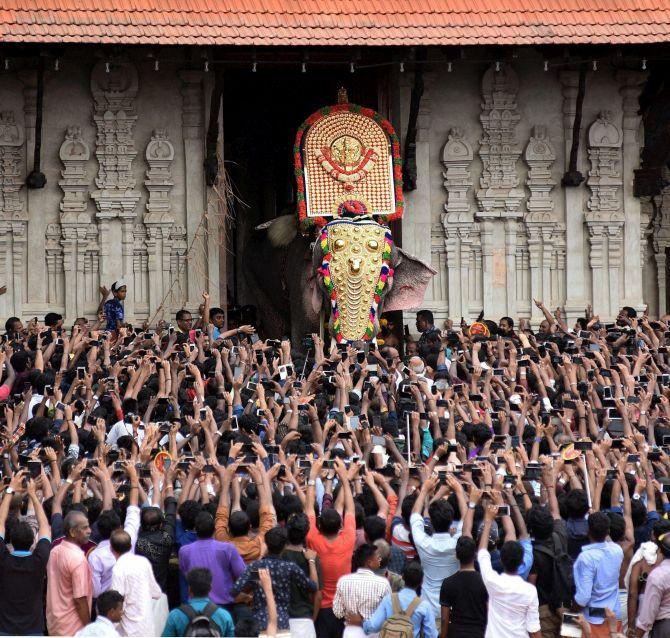 IMAGE: Amid tight security and Kerala high court guidelines, Thrissur Pooram festival concludes without any untoward incident. Photograph: PTI
The Pooram rituals concluded after the presiding deities from Paramekkavu and Thiruvampady Devi temples 'bid farewell' to Lord Vadkkumnathan, promising that they would meet him next year for Pooram.
A disaster management official said that there was a massive crowd this year due to the publicity the festival received, particularly after the Kollam temple tragedy, which killed 108 persons.
"The district administration had taken all steps to ensure safety and security of those attending Pooram. Tight security was in place with top officials in Thrissur and Thiruvananthapuram monitoring the event very closely. But we were prepared to meet any kind of situation," the official, who did not wish to be named, told PTI.
Office bearers of Paramekkavu and Thiruvampady Devaswoms -- the major players in organising the festival -- said they were certain that their experience in conducting this "national event" had helped them organise the Pooram events without losing its essence and tradition, particularly in the light of the Kollam temple tragedy.
"We have been organising this festival for quite some time. So we have a proper system in place, evolved through our decades old experience. We were confident that we will not go wrong," President of Paramekkavu, K Manoharan, told PTI.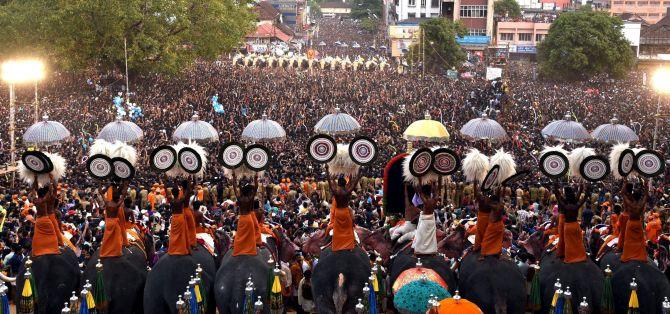 IMAGE: Umbrella showing competition by Thiruvambadi and Paramekkavu Devaswams during the festival. Photograph: PTI
In view of the Kollam temple tragedy, Kerala high court had allowed low-decibel fireworks display in the night during the Pooram festival.
The high court had ordered that no unauthorised chemicals should be used in the fireworks and the sound level should not exceed 125 decibel.
"We had taken steps to ensure that the fireworks are held as per guidelines issued by the high court. The sound level did not exceed even 109 decibels. We had all necessary permission to conduct fireworks, Manoharan said.
More than 300 peopel were injured in the major fire that engulfed the Puttingal Temple at Parvaoor in Kollam during an unauthorised display of fireworks early on April 10.