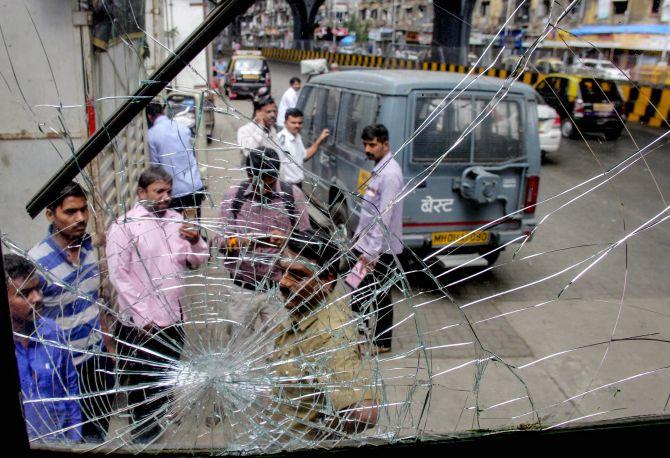 Three buses of a private school in Pune were stoned and damaged on Monday during the 'Bharat bandh' called by the Congress and various other opposition parties, the school management and police said.
However, no one was injured in the incident that took place early morning in Undri area when the buses were on their way from the Caelum High School to pick up the students.
Following the incident, the school was closed for the day, the school's Director Monica Thadaney said.
The nationwide bandh had been called by the Congress and other opposition parties to protest against the rising fuel prices.
"The incident occurred after three buses of our school left the school premises to pick up students. While the buses were on their way, some unidentified persons hurled huge stones at them, damaging the windowpanes and windshields," she said.
When contacted, Kondhwa police station senior inspector Milind Gaikwad said, "We came to know about the incident through the media. We are trying to contact the school authorities."
He told PTI that no formal complaint has been filed by the school authorities yet.
Meanwhile, a bus of the Sanskriti School in the same area was allegedly targeted on Sunday night when it was parked inside the school campus.
Praneet Mungali, one of the trustees of Sanskriti school, Monday said the incident was not linked to the 'Bharat bandh'.
"There are images being circulated on the social media that our school bus was attacked by some people during the Bharat bandh protests. I want to clarify that no such incident has taken place today," he said.
Mungali said the windshield of the bus got damaged in the incident.
Sanskriti school too declared a holiday for pre-primary students Monday as a precautionary measure, he said.
The nationwide bandh was steered by the Congress in protest of rising fuel prices and falling Rupee.
In Maharashtra, the Nationalist Congress Party, the Maharashtra Navnirman Sena, the Samajwadi Party, the Peasants and Workers' Party and the Bahujan Samaj Party backed the bandh.