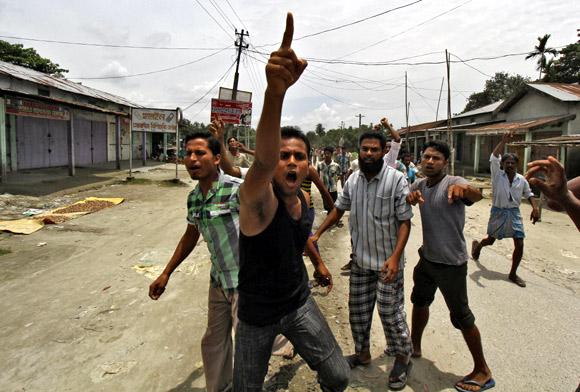 Three persons were killed, while three were injured and at least five houses were set on fire when Trinamool Congress and Bharatiya Janata Party supporters fought a gun duel at Makra village in Birbhum district on Monday.
Bullets were fired from country-made guns in the two-hour-long clash, the police said.
Three dies due to their injuries in a local hospital after being admitted, hospital sources added.
However, no one has been arrested as yet in connection with the clash.
Trading charges, the ruling TMC and the BJP have blamed each other for the violence, police said.
A contingent of police personnel under Additional Superintendent of Police Ananda Roy was on the spot, the police said.
Makra village is adjacent to Chakmondola where the Officer-in-Charge of Parui police station was attacked during a raid on October 24.
Prosenjit Dutta, the OC, and three other policemen were injured when they raided Chakmondola village following reports that bombs were being manufactured there.
A team of state BJP leaders, including George Baker, a former movie actor, former top police official R K Mohanti and the party's state vice-president Subhas Sarkar, were not allowed by the police to visit Chakmondola village on the ground that prohibitory orders under Section 144 CrPC were in force.
A team of local party leaders was also restricted from entering the area on Sunday.