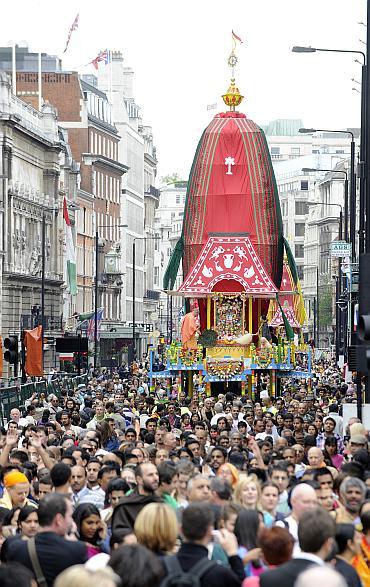 Thousands of pilgrims and faith leaders from all over the world participated in the London Rath-yatra, festival of chariots, on Sunday evening as the city was illuminated by wonderful colours and sounds of the annual Hare Krishna Festival.
The devotees pulled three 40-foot high colourful chariots carrying the sacred deities of Lord Jagannatha, Lady Subhadra and Lord Balarama from Hyde Park to Trafalgar Square. The giant chariots were accompanied by a procession of singers, musicians and dancers. At Trafalgar Square, where the procession concluded, thousands of people had gathered to witness cultural and educational displays and exhibitions linked to the Rath-yatra.
The festival of chariots is a celebration dating back to over 5000 years, annually observed in the ancient holy city of Jagannatha Puri in Orissa, making it the oldest street festival in the world.
Devotees believe that if they get the honour of pulling the ropes of the giant chariot, carrying Lord Krishna, known as Jagannatha - Lord of the Universe, then, at the end of this life, they will be granted eternal service to the Lord in the spiritual world.
"Each year, we aim to make the Festival of the Chariots a more vibrant and colourful festival for London. Now over forty years on, it's amazing to see yet another generation of Londoners enjoying the Ratha-Yatra celebration in our capital," said Titikshu Das, Coordinator of London Carnival of Chariots.
This ancient festival was brought to western shores by AC Bhaktivedanta Swami, founder of the International Society for Krishna Consciousness.
The first Rath-yatra festival outside of India took place in San Francisco in 1967. This festival came to London in 1969, where it has been faithfully observed every year for over 40 years attracting more than 30,000 people throughout the day.
Image: Devotees pull a 12-metre high chariot from Hyde Park to Trafalgar Square during the 42th Hare Krishna Festival of Chariots in central London
Photograph: Paul Hackett/Reuters