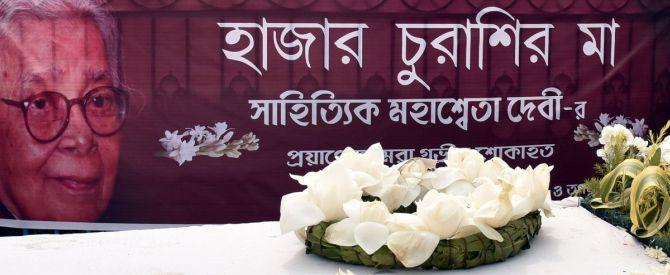 Thousands of people from all walks of life on Friday filed past the body of Mahasweta Devi to pay their last respects before the eminent writer and social activist was cremated with full state honours.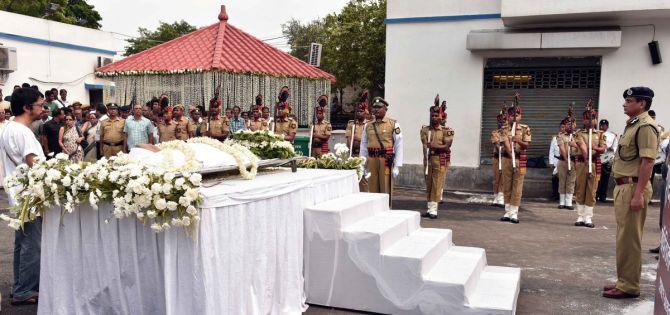 Thousands of her admirers, artists, writers, painters and political leaders including West Bengal Chief Minister Mamata Banerjee gathered at the Rabindra Sadan auditorium where her body was kept.
The eminent writer-activist died on Thursday after a cardiac arrest following multi-organ failure at the age of 91.
After the tributes were paid, the body of Mahasweta Devi was then taken in a convoy to the Keoratala crematorium. Her grandson Tathagata Bhattacharya accompanied her in her last journey.
Recalling many fond memories of his childhood and youth with her grandmother, Tathagata said he always admired her dedication to fight for the cause of tribals and ensure their uplift.
"Her most famous works were not her best ones. People know her for writing 'Hajar Churashir Maa' but not 'Sri Sri Ganesh Mahima'," he said.
Twitter was flooded with condolence messages saluting her indomitable spirit to fight for the rights of tribals, Dalits and other oppressed classes.
Bangladeshi writer Taslima Nasreen recalled that Mahsweta had stood by her during her bad times while acclaimed author Amitav Ghosh described her death as a "terrible loss for literature".
"RIP Mahasweta Devi. A terrible loss for literature. A great writer and extraordinary activist; a woman with a warm, generous heart," he said in a tweet.
Bollywood actor Rahul Bose said, "Tremendous loss. Meeting her you were struck by her principles and courage. And what writing. #MahaswetaDevi #RIP".
Photograph: @AITCofficial/Twitter