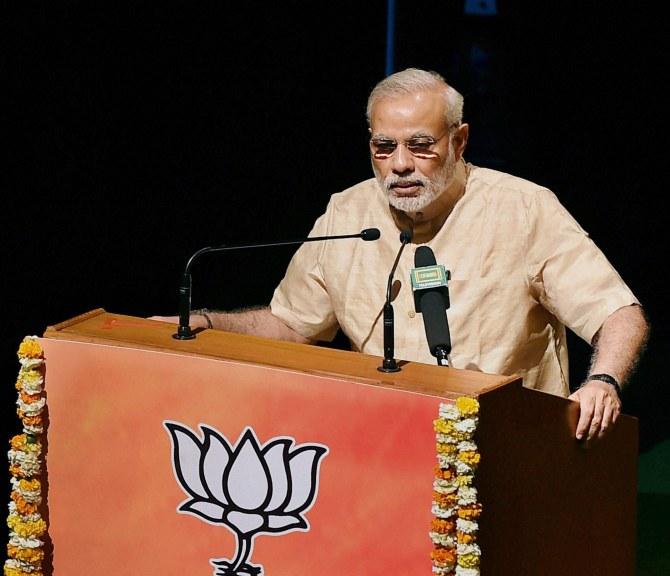 Prime Minister Narendra Modi addresses parliamentary party MP's during 'Garib Kalyan Yojana', a workshop about the various pro poor policies initiated by the Government for party MPs in New Delhi. All photographs: Shirish Shete/PTI
As Congress held a rally in New Delhi to attack him, Prime Minister Narendra Modi on Sunday projected his government as pro-poor and pro-farmer by listing out a host of schemes and lashed out at 'perverted' critics for their 'congenital habit' of working against the Bharatiya Janata Party.
Addressing party members of Parliament, he dwelt at length about the measures taken for the 'benefit' of the poor and the farmers and asked them to highlight this while making a contrast between his government and the previous ones on the similar lines as 'black and white' and 'colour' in the TV world.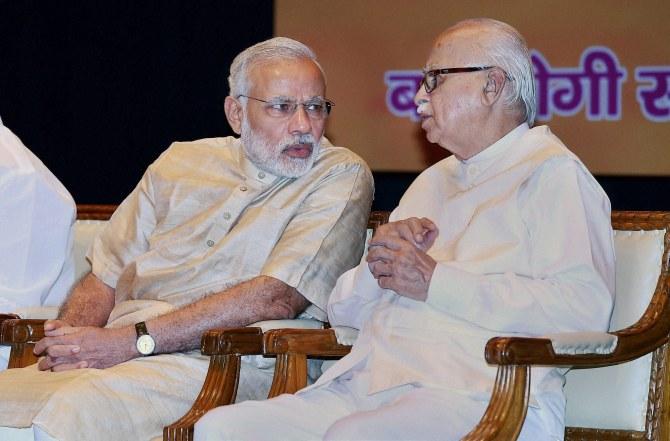 Modi talking with BJP veteran LK Advani during the workshop.
"How much lie is being spread! But you should have trust in people and tell them confidently about our programmes, talk heart-to-heart and they will laud you," he said, slamming those who criticise his government because of 'congenital habit' of working against the BJP.
To buttress his assertion about being pro-poor and pro-farmer, a combative Modi, who is accused of being pro-corporate, listed schemes like making toilets, pension, 'beti bachao, beti padao' (save girl, educate girl) and housing-for-all besides the 'bold' decision to relax the criteria for rainfall-hit farmers to get compensation which has been increased.
In the context of education for girls, he specifically mentioned Muslims, saying they are the most deprived and 'the country cannot progress if daughters of our Muslim families remain uneducated'.
Similar is the case with Dalits, OBCs and tribals, he said. He also talked about efforts to curb corruption in NREGA, direct transfer of subsidies and Jandhan scheme for the poor.
To counter those attacking him, Modi asked how these programmes could be meant for the rich.
"We are working to provide house to everybody. Who are the people who do not have a house? Who will benefit from it? Rich? Are we doing it for owner of some TV channel or newspaper? Are we going to build a house for Mukesh Ambani? Who are those people who don't have houses," he said.
Modi interacts with senior BJP leaders during the workshop.
Talking about his initiative for constructing toilets, Modi again questioned whether it could be meant for the rich. Referring to 'beti bachao, beti padhao' scheme, he posed to his critics, "Can this be for the daughters of Indian Administrative Service officers or MPs. Who is uneducated? In this country, daughters of minorities are the most uneducated."
In his hour-long speech, Modi said, "All decisions I am taking are for the welfare of the poor... We are working for the poor, not for being in news but because we cannot sleep peacefully if we don't do it. We live for the poor. We are in public life not to enjoy the power but for the welfare of the poor."
Joined by party veteran L K Advani and Parliamentary Affairs Minister Venkaiah Naidu on the dais, the Prime Minister contended that he was moving with a 'dream' of providing all kinds of benefits for the poor and said, "Do not weigh all our policies on the scale of politics but national interest."
He refrained from speaking on the Land Acquisition Bill against which the Congress organised the rally but only made an oblique reference to it when he attacked 'perverted minds' for wrongly projecting his speech in Bengaluru during the party's National Council meeting earlier this month.
"The day you chose me your leader, I said this government will be for the poor. But look at these perverted minds who have this congenital habit of working against the BJP. When I spoke about the welfare of the poor in the context of Deen Dayal Upadhyay's birth centenary and his call for the upliftment of the last man in the queue, they said Modi is speaking about the poor due to land bill."
"You work against us, I have no objection. It's your democratic right but you should not claim to be neutral. People should know you are not neutral," he told the critics.
Exhorting the cadres to spread the message about government's work with 'head high', he said, "Some people have decided not to hear anything good, not to say anything good and not to see anything good. We should not waste our time on them but focus on those who want to listen. ... You should become more active and tell people what all we are doing. Don't think about what media is saying."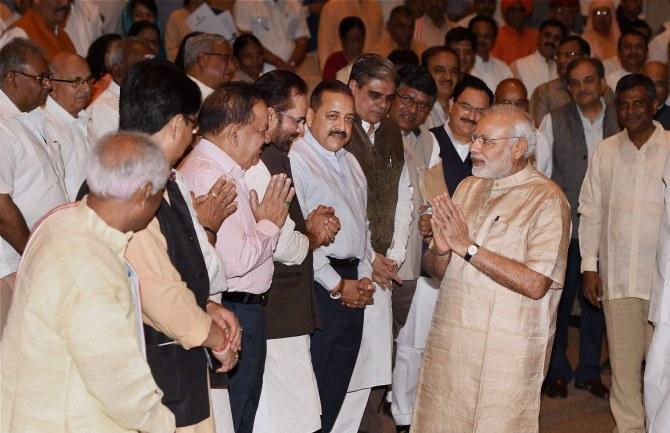 Prime Minister Narendra Modi greets senior BJP leaders and ministers.
Modi, who was addressing the party MPs on the eve of the resumption of Parliament's Budget session, highlighted the schemes initiated by his 10-month-old government and said these were all intended to benefit the poor.
Punctuating his speech with attacks on his critics, including a section of media, for magnifying 'small' things, he said, "You must have seen how small incidents are
constantly magnified on a day we do something major. Since they have nothing to counter the good work, a trend has started to exaggerate small incidents."
He did not elaborate but the remarks came in the backdrop of attacks over controversial statements of some Union ministers and party MPs besides alleged activities of Sangh-affiliates. Critics say that such incidents have continued despite disapproval by the prime minister.
While talking about his efforts to curb corruption and leakage of public funds, he targeted former Prime Minister Rajiv Gandhi, without naming him, for having said that 'out of Re 1, only 15 paise reaches the people', and observed that 'you do not have to only do daignosis but treat the disease as well'.
Answering the Congress' criticism against him for speaking about 'mess' left behind during his just-concluded foreign tour, Modi said, "it has become a crime to speak against corruption. We are being mauled for that."
Prime Minister Narendra Modi on Sunday said only national service can save the nation, and not politics. Politics, he said, only focuses on what resources the government has and how and to whom it should be distributed.
"If I say that the previous governments are responsible for homelessness, am I wrong? I seek a house for the poor, electricity, toilets, education for kids. Are the poor not entitled to these? The money we save goes into benefiting the poor," said Modi at a workshop for Bharatiya Janata Party lawmakers, where he highlighted the various pro-poor programmes of his government.
"We will establish more hospitals than previous governments. Why am I insistent on building toilets? It is for our mothers and sisters," he added.
Modi also talked about the Centre's 'Beti Bachao-Beti Padhao' initiative.
"Whose daughters are we educating? These are the girls of minorities and the poor, who are deprived of education and their rights. If my Muslim daughters are uneducated, our country cannot develop," he said.
"I am the prime minister, and as prime minister, I demand something -- Beti Bachao -- no more female foeticide," he added.
He also reiterated his demand for the well-off sections of society to give up their gas subsidies.
"I urge you to please give up your gas subsidy. We save 200 crore rupees if 4 lakh people give up their subsidy. This money will not go into the government's treasury. This money will go towards providing gas cylinders to the poor people," he said.
"We will save the forests. If one crore people give up their subsidies, one crore poor people will move from wood burning chulhas to gas stoves," he added.
Modi also discussed about the success of his government's 'Jan Dhan Yojana'.
"I salute the banks; they have made the Jan Dhan Yojana a success. Students were not being granted loans. We have made provisions so that students will not be hassled because of the paucity of funds," Modi said.
"The neo-middle classes are the most ambitious. They do not want to go to the jhopdis (huts). They (the poor) may not be able to sit on par with the rich, but they want to live with dignity. We want to increase the purchasing power in the villages. But the money spent should not be unproductive," he added.