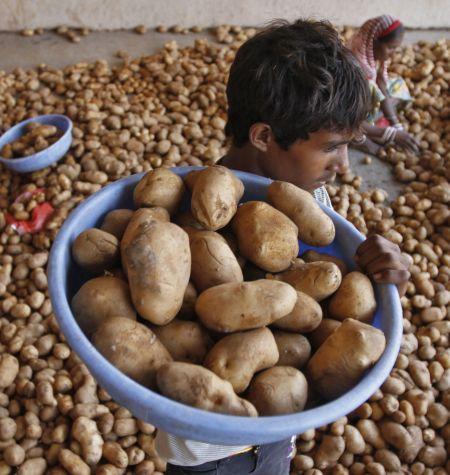 One more potato farmer has committed suicide in West Bengal after being unable to repay his agricultural loans despite a bumper crop, taking the toll in the state to seven so far.
Thirty-two-year-old Mrinal Kanti Sarkar consumed pesticide in his field at Nanoor in neighbouring Birbhum district on Monday. He was rushed to a local hospital and shifted to Burdwan Medical College and Hospital after his condition deteriorated, police said.
He, however, died in the evening at BMCH, hospital sources said.
His uncle, Biswajeet Sarkar said the farmer had taken almost Rs 3 lakh loan from a bank and private persons. The crop had been very good but he was unable to repay his loans as the price of tuber has plummeted to Rs 100 from Rs 120 per bag. Each bag contains 50 kg of potato.
Six deaths had been reported from Burdwan district itself over the past fortnight.
Potato production in the state was in excess of 110 lakh tonnes, up by around 15 per cent over last year due to higher acreage and conducive climate, West Bengal Cold Storage Association sources have said.

Image: Representation picture/Reuters