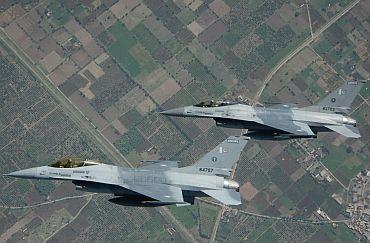 At least 30 terrorists were killed on Tuesday when Pakistani fighter jets carried out air strikes on militant hideouts in Shawal valley, a mountainous area in North Waziristan sharing boundary with South Waziristan, and other areas of the restive northwest tribal region.
The security sources said a number of terrorists' hideouts have been completely destroyed.
"Some 30 terrorists were killed in early morning air strikes on terrorists' hideouts in Pray ghar and Razan Nala areas of Pasht Ziarat in Shawal valley on the boundary of North and South Wazirastan agencies," a security source said.
He added that simultaneous strikes were also carried out in Ghariom village in North Waziristan.
The air strikes mainly took place in Datta Khel and Shawal areas of North Waziristan where militant training facilities and compounds are said to be located.
It is said the militants had captured a stretch between South and North Waziristan and had established training centres where they were also preparing suicide bombers.
The air strikes are part of military's new strategy to launch intelligence based limited operations.

The continuous air strikes in various parts of the tribal areas since last week have led to feeling that a full-fledged military operation against the militants could begin soon.
Thousands of people have started fleeing the region.

The government was forced to suspend peace dialogue with the Taliban and go in for air strikes following the beheading of 23 Frontier Corps personnel.
The government has maintained that it is still for solution through talks and have demanded that the Taliban announce a ceasefire.
Advisor to Prime Minister on Foreign Affairs and National Security Sartaj Aziz has said consultation on military operation in North Waziristan was underway.
However, he has stressed that dialogue option with the Taliban has not yet been discarded.