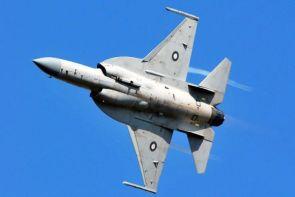 Pakistani fighter jets pounded militant hideouts in the lawless North Waziristan Agency killing at least 15 militants, official sources on Thursday said, as peace talks with the Taliban remained in limbo.
Air strikes were carried out late Wednesday night in Mir Ali area in North Wazirastan Agency to "target militants hideouts with precision".
"There are confirmed reports that 15 militants including foreigners were killed in the strikes. A huge cache of arms and ammunition have also been destroyed," an official source said. The bombardment was part of surgical strikes that sources said should not be taken as military operation.
Local media reports said the strikes were carried out after the military leadership took the civilian government into confidence citing potential threats from terrorists holed up in their safe havens in the country's tribal belt.
The sources said that the attacks were aimed at protecting people of Pakistan as the militants were making plans to carry out terrorist attacks.
They added that if the government decided to launch an operation, the air force jets will attack the militants in the first phase and other steps would be taken shortly after the weather conditions improve in the mountainous region.
The fresh strikes by the military came at a time when the peace talks between the government and the Tehrik-e-Taliban Pakistan is in limbo following the killing of 23 security personnel by the banned group.
According to security officials, 460 people including 308 civilians have been killed in terror attacks since the All Parties Conference in September which had decided on dialogue as the way out to tackle the Taliban violence.
"Innocent people (308 civilians, 114 military, 38 police) have embraced martyrdom and 1,264 (684 civilians, 531 military, 49 police) were injured due to terrorists act throughout the country since the September APC," a senior military official said on condition of anonymity.