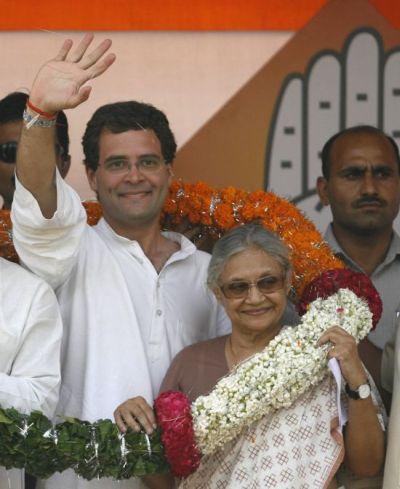 Yet another Congress stalwart on has voiced reservations over Rahul Gandhi's likely elevation as party president, with former Delhi Chief Minister Sheila Dikshit saying there was "skepticism" over his leadership qualities and pitched for continuance of Sonia Gandhi at the helm.
The 77-year-old veteran said under the incumbent president there was a "comfort feeling" and that the party could rely on her "overpowering and very successful" leadership for its revival.
"I will not be able to give any idea what will happen or what will not happen. He (Rahul) could succeed. There is another point we must understand that the overpowering and very successful leadership of Sonia Gandhi is there. So there is a comfort feeling with her," Dikshit told PTI in an interview.
When the interview went on wires, Dikshit spoke to journalists to clarify that she had not said that Rahul Gandhi is "incapable" and asked TV channels not to attribute to her remarks she had not made.
The PTI story did not quote the former Delhi chief minister as having called Rahul incapable and the agency stands by its report which was based on a tape-recorded interview.
Dikshit said Rahul's leadership qualities have not been fully tested yet.
"I am yet to meet anybody who has any critical remarks to make about the leadership of Sonia Gandhi. I can say it with absolute confidence. Whereas (in case of) Rahul, of course, there is a question mark, there is skepticism because you have not seen him perform as yet," Dikshit said.
"He has not had the opportunity to perform as yet. He has not had the responsibility. So to judge him and say that 'write him off' or criticise him something he has not been able to do so, I do not think, is a fair assessment of the person. We have to wait and see," she said.
Dikshit's comments have come at a time when Congress appears divided on whether to anoint Rahul as president replacing his mother Sonia. Senior party leaders Amarinder Singh and Dikshit's son Sandeep had come out strongly against Rahul's elevation.
Dikshit's son Sandeep had earlier this month said that Sonia was the "leader" for "99 per cent of partymen" and she was needed at the helm now more than ever. Singh had said Sonia should "retain" Congress Presidentship and a generational change cannot be done "with a knife".
"There is a comfort feeling with Sonia Gandhi as she has done things which we would not have expected. She never accepted PM's post yet she made Congress win twice in general elections. So, that comfort feeling is there with her. She is a confident leader whom Congress can rely upon.
"That comfort feeling has yet to develop where Rahul is concerned," Dikshit said, adding it was too early to judge his leadership credentials.
Asked whether the party should accept if Sonia decides to step down, Dikshit said it was for her to take a call.
"She is not one of those who runs away from responsibility. I do not think she is the kind who does that. And when it comes to the survival of the Congress or the ideology of the Congress she is always there," she said.
Asked whether Rahul will be able to steer the party if made president, Dikshit said it was too early to comment.
"It's a question of the future. How he does, what he does... When you get full responsibility, you may come out with a different colour," said Dikshit.
On opposition's criticism of Rahul over his nearly two-month-long sabbatical, Dikshit said it was a "non-issue."
"I do not give too much importance to it. Mrs Gandhi is the president and, in the last three or four weeks or so, she has once again shown her mettle.....her concern for things that matter to India like (protecting) the interest of the farmers and price rise."
Expressing confidence about Congress' revival, the former Delhi chief minister cited examples of Indira Gandhi and Rajiv Gandhi, who led the party back to power after electoral debacles.
"I have no doubt that it will revive. We have time on our side now. We have four years comfortably and the Congress will introspect. It is in the process of doing so. It will do more. This is not for the first time in the country that the intellectuals felt that Congress is over.
"Don't think that if you lose an election once, you lost it forever or if you won an election, you won it forever. So, there are these moments that happen and it's part of history and part of democracy," she said.
Dikshit suggested revamping the AICC and called for young leaders like Jyotiraditya Scindia and Jitin Prasada being given more prominent roles.
"I think that the AICC needs to be revamped and a new impetus given to its structure. For instance, some people have been there for decades and decades. We need to bring new blood. We should bring them in and train for the future," she said.
Dikshit said the party should bring "change" which will be "refreshing". "We do need to have change in our thoughts and bring fresh blood. The fire in the belly has to come," she said.
Asked about the demand by a section in the Congress to give Priyanka Gandhi a prominent role, Dikshit said it can be decided by the party leadership and the Gandhi family.
"This is something which has to be done very carefully and Mrs Gandhi is known to be a person who treads very carefully and in a very sophisticated and careful way, (she) measures everything. I have the fullest faith in her. Whatever she does, the party will follow," she said.
The former Delhi chief minister said she was ready to play any role in the party but insisted she was not seeking any position.