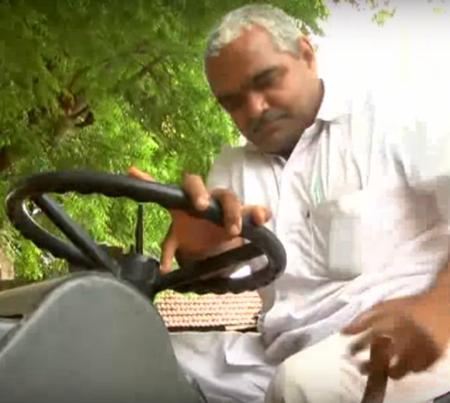 A differently-abled farmer from Gujarat's arid Banaskantha district has inspired several others to make the best use of their farm land by planting pomegranate.
Genabhai Patel (52), a pomegranate farmer from Sarkari Goliya village in Lakhani taluka of the district, has polio in both legs but he did not let it become a hurdle.
Instead, he experimented with farm practices involving drip irrigation to produce pomegranate in the highly arid and rain scanty region which was followed by many other farmers, who are today profiting from the practice. Around 70,000 farmers have visited his farm to replicate his success.
His achievements have made him this year's recipient of the prestigious Padma Shri award. Patel is one of the seven recipients of the award from Gujarat.
"Being differently-abled, I am not able to plant vegetables, so some twelve years ago, I decided to plant pomegranate after learning about its plantation from agriculture university and state government's Krishi Mela," Patel, also popularly known as 'Anar Dada' said on phone from his village.
He bought pomegranate plants from Maharashtra and planted them over 20 hectare land, and used drip irrigation to save water usage in the arid region.
After two years, the plants bore fruits but the right price was still elusive, mainly because of lack of knowledge about the proper place to sell the produce, and it was only after 4-5 years of plantation that he managed to receive a better price, Genabhai said.
"This encouraged more farmers and within a couple of years, the entire village was growing pomegranate, and several villages in neighbouring Rajasthan also started growing it. Around 70,000 farmers have so far visited my farm to see how the fruit is grown," he said.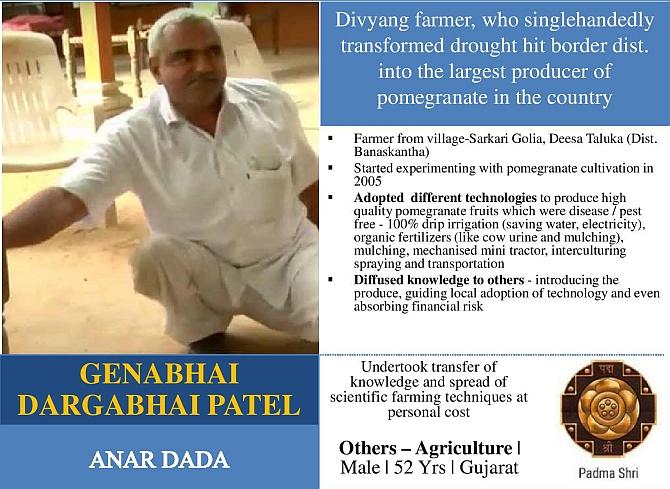 Today, pomegranate is grown on over 9,000 hectare land in his tehsil, with traders from Karnataka, Andhra Pradesh, Punjab and Maharashtra coming during December-January every year to purchase the produce, he said.
Genabhai has received several recognitions for his inspiring farming, including Gujarat and Rajasthan state awards for farmers, Shristi Samman award from the President, and several other awards from corporates.
He also delivered a lecture at the Indian Institute of Management, Ahmedabad, in 2013.
He said that he has met Prime Minister Narendra Modi around nine times. During his recent visit to Deesa in Banaskantha, Modi had mentioned his name and praised his achievements in his speech.