Prime Minister Narendra Modi has been running a tight ship when it comes to governance. He involves junior ministers in the decision-making process and holds a meeting of the Council of Ministers every last Saturday of the month, but there's a group of ministers that the prime minister reaches out to more often.
This correspondent spoke extensively to senior Union ministers and members of Parliament from almost all parties to draw up a list of people who play an important role in shaping Prime Minister Modi's governance.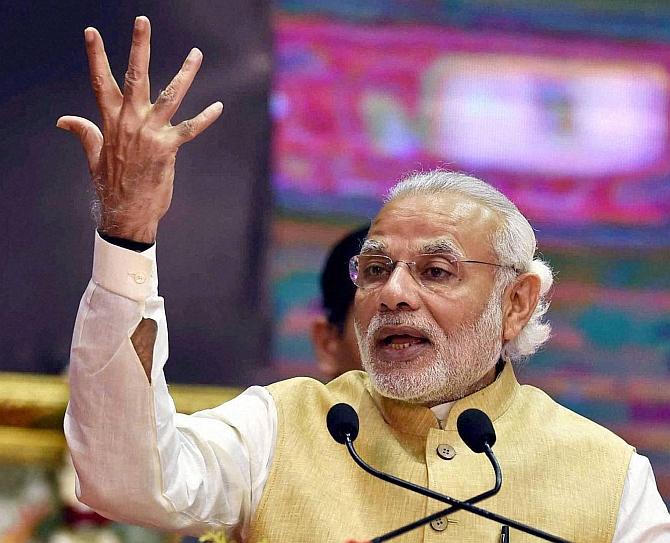 Arun Jaitley: The finance minister is a constant the prime minister has paid heed to since assuming office in May 2014. Considered the tallest among the ministers, Jaitley is the first who Prime Minister Modi reaches out to before considering any solution to the problems confronting him.
Manoj Sinha: The telecom minister has been Bharatiya Janata Party's face of the Bhumihar community, which also has a fairly large presence in eastern Uttar Pradesh. Now with elections in the state on the horizon, the prime minister has been seeking inputs from Sinha more often.
Dr Mahesh Sharma: Modi likes the tourism minister for the straight-forward way he talks about issues related to the BJP organisation (a task also performed by Petroleum Minister Dharmendra Pradhan). He and Sinha have been advising the prime minister on the forthcoming UP elections.
Nitin Gadkari: Modi resorts to Nitin Gadkari, especially using his proximity to the RSS leadership to serve as a bridge between Nagpur and the PMO. Whenever the RSS tries hard to breathe down his neck, it is Gadkari that Modi relies on to send a tough message to the RSS leadership, trusting him to effectively communicate his thoughts in the right spirit.
Rajnath Singh: PM Modi turns to the home minister when he needs political feedback.
Manohar Parikkar: In the days since the surgical strikes across the Line of Control, the prime minister has been turning to the defence minister for briefings on the situation along the border with Pakistan.
Venkaiah Naidu: PM modi has entrusted the urban development minister with the task of having back-channel talks with the Opposition on contentious issues. Of late, Chemicals and Fertilisers Minister Ananth Kumar too has been entrusted with the responsibility.
Sushma Swaraj: PM Modi has very high personal regard and respect fore the suggestions given by the external affairs minister.
Power Minister Piyush Goyal and Commerce Minister Nirmala Sitharaman: Modi likes the duo for their fair and focused suggestions. Sitharaman is also considered effective in articulating the government's basic developmental policy issues with industry and business houses.