Ameya Khopkar, MNS chief Raj Thackeray's close friend, defending his stance, says, "When our soldiers are being killed on the borders by Pakistan, why should we host their actors here?"
Sanjay Jog reports.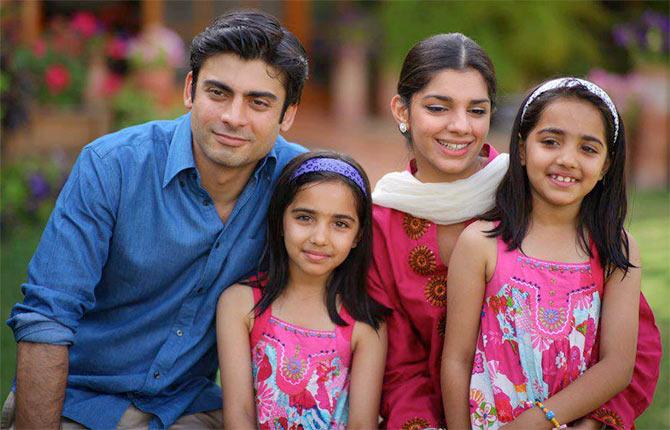 IMAGE: Fawad Khan and Sanam Saeed in Zindagi Gulzar Hai

.
Asking all Pakistani actors and artistes to leave India within 48 hours, Raj Thackeray-led Maharashtra Navnirman Sena, which has been fighting to stay afloat, has had hit the headlines.
The diktat came after a terror attack on an army base at Uri in Kashmir on September 18, in which 19 Indian soldiers were killed and 20 injured. Raj's close aide and Maharashtra Navnirman Chitrapat Karmachari Sena President Ameya Khopkar said, "If the Pakistani actors don't leave India, we will push them out."
Undeterred by the criticism from practically all quarters, especially on social media, Ameya defended the party's stand. "When our soldiers are being killed on the borders by Pakistan, why should we host their actors here?"
All artistes, including Fawad Khan who is playing a leading role in Karan Johar's much-anticipated Ae Dil Hai Mushkil, quietly flew to Pakistan. Ameya received a bouquet from Raj for taking a lead.
This is not for the first time Ameya and his party have hit the streets or issued warnings like this. In 2013, he asked Pakistani singer Adnan Sami to leave the country as he was allegedly staying in India without a visa.
At the same time, Ameya has been at the forefront to flag off issues ranging from the influx of north Indians in Mumbai, their presence in almost every sectors at the apparent cost of "Marathi manoos", and lack of sufficient slots given to Marathi films in multiplexes.
Ameya, with a few party activists, a fortnight ago allegedly disrupted a press conference called by an outfit seeking statehood for the Vidarbha region of Maharashtra. They argued that party will continue to oppose any division of Maharashtra.
Ameya, however, clarified that neither MNS nor he are against residents of Uttar Pradesh and Bihar coming into Mumbai in large numbers. "Once they come here, they should follow the ethos and culture of Maharashtra," he said.
Since childhood, Ameya has been a great fan of Raj, especially his leadership qualities.
IMAGE: MNS' Ameya Khopkar.
In his college days, Ameya was an office bearer of the Shiv Sena's student wing, Bharatiya Vidyarthi Sena, headed by Raj and participated in a number of agitations. After completing a degree in hotel management, Ameya worked in a city's leading five-star hotel before getting into business and started looking after a family-run restaurant near Lonavala.
After Raj left Shiv Sena, because of reported humiliation in 2005, Ameya joined his mentor in 2006 and became an active member of MNS. He was made deputy chief of two municipal wards in central Mumbai. Since then, he claimed his only mission was to work hard for the growth of MNS in order to become the number-one party in Maharashtra. Ameya made it clear that he was not pursuing any ambition of becoming a legislator or a minister as he wants to keep himself away from the poll politics.
"It is MNS' organisation that matters the most," he said. He hinted he would never think of deserting Raj, despite ups and downs.
Ameya, along with two members of the extended Thackeray family, run Cine Mantra Entertainment, which produces films, TV serials and Marathi acts. He has a large circle of friends in the Marathi film industry and also in the Bollywood, in sports and in business. After hectic political activities he enjoys himself by listening to Kishore Kumar and Abhijeet.