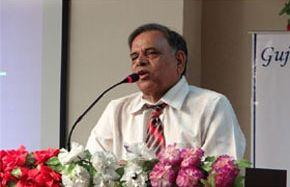 Gujarat University Vice-Chancellor M N Patel revealed Narendra Modi's MA results at an impromptu press briefing at his house.
Vinay Umarji reports.
The residence of Gujarat University Vice-Chancellor M N Patel, left, was unusually busy on May 1. The 64 year old held an impromptu press conference at his house that instantly catapulted him into the limelight.
To the handful of print and electronic media journalists who had turned up, Patel revealed the score card of Prime Minister Narendra Modi: The marks he had obtained in MA (political science) as an external student of the university.
Patel revealed that Modi had scored 62.3 per cent in MA in 1983. In all, the prime minister had got 499 out of 800 marks.
The timing and the manner of this revelation raised many questions. Only a few days ago, Delhi Chief Minister Arvind Kejriwal had sought information on Modi's educational qualification from the Central Information Commission.
Until Kejriwal raked up the issue, Gujarat University had maintained that it would not reveal this information to anyone other than the student concerned.
Yet, no sooner did Kejriwal approach the CIC than the marks were made public by way of a press briefing -- a move that has been questioned by many, especially the Congress.
"The post of a vice-chancellor of Gujarat University, or for that matter of any university in Gujarat, is politically backed. So, questions will naturally be asked," says a senior Congress leader in Gujarat.
Patel could have simply passed on the information to CIC. He was not bound to make it public. But those who know Patel say he has always been proactive.
Before he was brought back from retirement and appointed vice-chancellor in 2014, Patel was the principal of L D Engineering College.
His peers remember him as a workaholic who would come in to office early and stay till late, expecting the same from his colleagues and juniors.
Patel is known to be close to Gujarat Chief Minister Anandiben Patel from the time she was the state's revenue minister under Modi.
Both Anandiben and he are from north Gujarat -- Patel from Tunda village in Unjha and Anandiben from Mehsana. One of his relatives is also said to hold an important position in the Bharatiya Janata Party.
His career in academics spans five decades, during which he was the longest serving member secretary of the admission committee of professional courses. The committee is responsible for the regulation of seats and admission of candidates to professional degree courses in the state.
A civil engineer with a doctorate in structural engineering, Patel is also on several state-government-appointed committees.
His detractors allege that Patel's decision to reveal Modi's marks was backed by the government to silence naysayers like Kejriwal.
"It is either done to please the government or he was asked to do it," says a Congress leader.
Patel denies these allegations. He says he "simply wanted to end the speculation" and "put the matter to rest."
The information had been shared with the Prime Minister's Office six months ago, he says.
Having stirred the pot, the vice-chancellor who is known to work long hours is now taking a break. He is off on a trip to Europe.