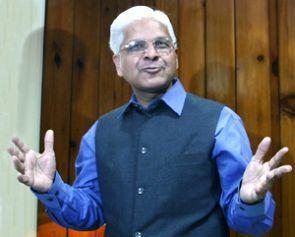 Law Minister Ashwani Kumar's rise in politics and elevation to the cabinet was as dramatic as his fall.
Elected to Rajya Sabha in May 2002, Kumar, a former Additional Solicitor General, climbed the ropes fast, sometimes creating heart-burns among his colleagues in the party.
Belonging to Gurdaspur in Punjab, Kumar was an Additional Solicitor General before being elected to the Upper House in 2002. He was re-elected to the Upper House in 2004 and 2010.
Within four years of his entry in Parliament, he became a Union Minister in 2006 holding the charge of minister of state in the department of industrial policy and promotion and of commerce and industry.
He was considered close to Prime Minister Manmohan Singh, a factor which is said to have played a role in the delay and dilly-dallying over his exit from the Union Cabinet after the controversy broke out over his meeting with the CBI director and making changes in the agency's draft probe report on Coal-gate.
Kumar had also served as a spokesperson of Congress for a brief stint in 2009. He was, however, dropped from the list of AICC spokespersons amid a controversy.
But he continued to serve as chairman, sub-committee on Action Taken Notes of the Committee on Public Accounts and a member of the Committee on External Affairs.
In April 2010, he was re-elected to Rajya Sabha and became minister of state in the ministry of parliamentary affairs in 2011 during a small Cabinet rejig.
In July 2011, he was made MoS in the ministry of planning, ministry of science and technology and minister of state in the ministry of earth sciences.
In October 2012, he became a cabinet minister replacing Salman Khurshid as law minister.
It was under this ministry that he came under attack for vetting a report of CBI on coal block allocation. The portfolio of coal was under the charge of the prime minister.
An LL.B and M.Phil, Kumar was educated at the prestigious St. Stephen's College, Delhi, Faculty of Law, University of Delhi, and JawaharlalNehruUniversity. He got a degree of Doctor of Laws (Honoris Causa) from PanjabUniversity in 2004.
A senior advocate in the Supreme Court of India, Kumar had become Additional Solicitor General of India in 1991.
He had served as a member and chairman in various Parliamentary committees.