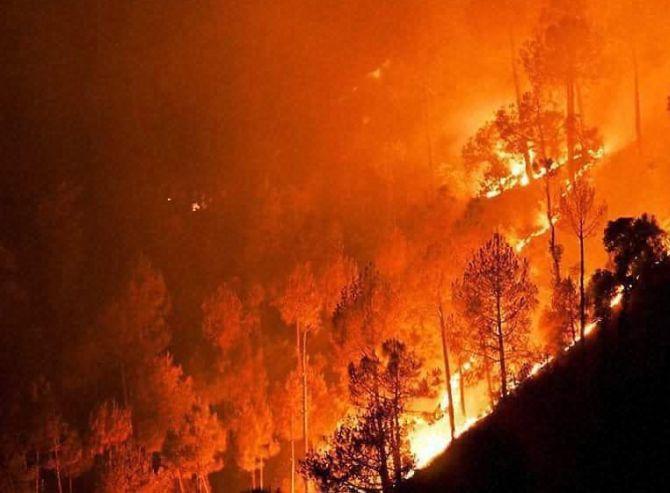 The forest fires in Uttarakhand, which have devastated acres of green cover in the hills, may have a lasting impact on the Himalayan glaciers and cause them to melt faster, say experts.
In a report published by the Times of India, experts say 'black carbon' from the smog and ash is covering the glaciers, making them more prone to melting.
Water in the rivers is also likely to get very polluted from the effects of this black carbon.
These fires have also raised average temperatures across northern India by 0.2 degree Celsius, which is bound to have a bad effect on monsoons in India.
The glaciers most likely to be affected by this are the ones situated at low altitudes, like Gangotri, Milam, Sundardunga, Newla and Cheepa. To study the effects of this, a team of scientists from Govind Ballabh Pant Institute of Himalayan Environment and Development will soon undertake a trip to these glaciers.
The raging fires have caused untold damage and killed five people till date. A police constable who was part of a fire-fighting team was killed on Monday after being hit by a boulder hurtling down the hill.
People in the Uttarakhand and Himachal are also worried about the impact on tourism, which is heaviest in peak summer. Both Uttarakhand and Himachal Pradesh are known for popular hill getaways where there is a real fear of heavy air pollution.