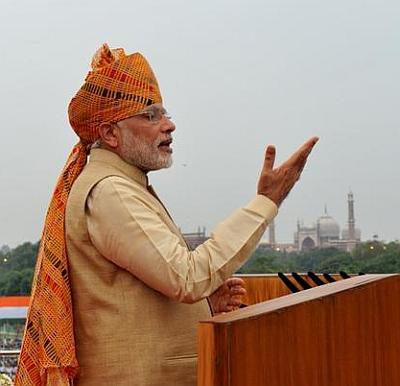 In an over an hour-and-a-half speech, Prime Minister Narendra Modi outlined his 15-month-old government's performance and his vision for the nation in the years to come.
Here are some of big numbers he showcased to enumerate his government's performance so far:

6500

Crore Rupees of undeclared money disclosed during the black money compliance window.

Lakh people have given up LPG subsidy.

Crore Rupees is the amount the national exchequer will get out of coal block auctions.

Crore would be spent on a special scheme for miners.

Number of toilets built in schools nationwide in one year.

20000
Crores deposited in Jan Dhan bank accounts.

18500
Villages in which Modi Sarkaar aspires to provide electricity in the next 1,000 days.

17
Crore people have opened accounts under Jan Dhan Yojna.

15
Months since, Modi claimed, a single case of corruption had been levelled against his government.
ALSO READ:
I-Day Special: 'My dream is to fly the 747 one day'
I-Day Special: Meet the first Kashmiri woman IPS officer and where she's headed next
I-Day Special: 'Why do we need to be in a mad rush all the time?'
I-Day Special: 'I'll keep trying to be an actor till I succeed. I will not go back'
I-Day Special: He spent 4 days in a Sri Lankan jail