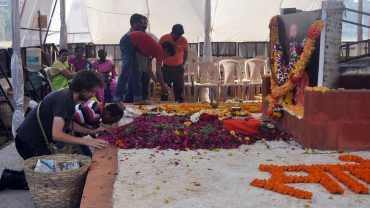 The army on Thursday said that the makeshift structure, where Shiv Sena supremo Balasaheb Thackeray was cremated at Shivaji Park, does not pose any "hindrance" for various exercises, which it is scheduled to conduct on Vijay Divas.
"At the moment there are no hindrances (of makeshift structure). We are happy with what we have got. The high court has given us the permission. It has laid down certain restrictions on noise level and other things," Major General Rajesh Bawa, General Officer Commanding, Mumbai Sub Area, said responding to queries by reporters on the structure.
The army will celebrate Vijay Diwas at the Shivaji Park for three days beginning from Friday.
Till
the political problem is sorted out we have to deal with it, he said. "We have barricaded the area. We have to make sure that our function goes on smoothly," he said.
The makeshift structure was allotted to Shiv Sena to cremate Balasaheb Thackeray. However, since then the saffron party has been demanding to construct a memorial for the late Sena patriarch at the site itself.
Meanwhile, Shiv Sena executive president Uddhav Thackeray on Thursday in his party mouthpiece
Saamana
indicated their willingness to shift Bal Thackeray's memorial to the margins of Shivaji Park in the city.
Image: The makeshift memorial of Bal Thackeray at Shivaji Park

| Photograph: Sahil Salvi