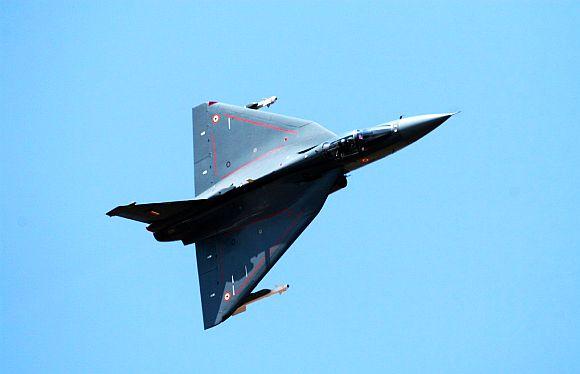 India's home-grown light combat aircraft Tejas might never fire a shot in anger at its Pakistani counterpart, the JF-17 Thunder. Yet, Tejas is already squaring off against the JF-17. When the Indian fighter performs aerobatics at the forthcoming Bahrain International Air Show, international aviation experts will directly compare it with the JF-17, which flew at the Paris Air Show in July.

The Tejas team is geared up to impress the experts in its international debut.
It is learnt that the Aeronautical Development Agency, which oversees the development of Tejas, has put together a flying routine that 'significantly surpasses any aerobatics display the fighter has presented earlier'.
"So far, we have always flown with large safety margins in hand. At Bahrain, we will show the spectators what Tejas can really do, how much energy the fighter has," says an ADA official closely associated with the preparations.

The 'Made-for Bahrain' display routine will test the aircraft's limits in vertical climbs, high-speed runs, tight turns and its slow flying ability.

With the flight-test programme having recently cleared the Tejas for 8G turns (which create stresses on the aircraft that are eight times the force of gravity), the performance at Bahrain will include two 8G turns in front of the display stand.
"We do not intend to return to India feeling we could have done more. Aerospace experts will scrutinise every performance, and recordings of these, over succeeding months. We hope to make it worth their while," said the ADA official.
Two Tejas fighters will fly to Bahrain for the air show on January 21-23. These fighters, along with three pilots, are already at an air base in Gujarat, practising their routine in sea level conditions akin to Bahrain. In mid-January, they will fly to Muscat, and then to Bahrain.

Air show performances serve various aims. Some displays are structured to entertain spectators with spectacular, but technically easy, flying. Others emphasise pilots' skills, such as close-flying displays.
Tejas, however, will present a 'product demonstration', which showcases for potential customers the performance aspects that make it a good combat aircraft -- such as the ability to climb quickly and turn tightly.
"A good 'product demonstration' must translate dry capability statistics into actual flying performance that makes an impact on potential customers," explained a veteran test pilot.
As the Tejas has passed performance milestones in a flight-test programme that began in 2001, it has flown and climbed faster and turned tighter, transforming the sedate 'flying displays' of the mid-2000s into today's exhilarating aerobatics.
Tejas pilots and ADA officials are confident the fighter will bear the stress of edge-of-the-envelope flying for several weeks.
"Tejas is often criticised for being too heavy. But that also makes it a structurally strong aircraft, with plenty of reserve strength to push the performance envelope," said a veteran Tejas test pilot.
While Tejas aims to entertain the spectators, and enthuse the aerospace analysts, the primary intention of featuring it at Bahrain is for evaluation by prospective buyers, who study recordings of air show performances.
"Big aerospace corporations like Boeing, Lockheed Martin and Dassault have in-house media teams, which produce high-quality, professional recordings of their aircraft's performances. ADA is handicapped in this respect," said an official.
The JF-17 Thunder, which already equips three squadrons of the Pakistan Air Force, enjoys a lead of several years over Tejas. Numerous press reports suggest that Sri Lanka has asked to buy the fighter, although Colombo denies this.

The JF-17 has also been more visible internationally. It debuted in 2010 in a static display at the Farnborough Air Show in the United Kingdom, and has flown in several air shows, most recently at Paris in July 2015.

However, the fourth-generation Tejas is technologically superior to the third-generation JF-17. Built of composite materials, the Tejas is more manoeuvrable, has better avionics and can carry more fuel and weapons.
Eventually, however, customers seek assured production and delivery, and in that the JF-17 is ahead. Pakistan's Kamra factory has already delivered 66 fighters to the PAF, assembled for the most part with Chinese components. Hindustan Aeronautics Ltd has delivered only one Tejas to the Indian Air Force.