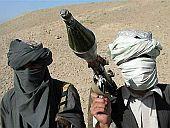 Banned Tehrik-e-Taliban Pakistan's operational commander and an unidentified foreigner have been arrested by intelligence operatives in the restive Khyber-Pakhtunkhwa province, according to a media report on Thursday.


Taliban commander Qari Basit and the foreigner were nabbed in Kheshgi town of Nowshera district on Wednesday, the Dawn newspaper quoted its sources as saying.
They were arrested when security forces and police jointly raided a house in Kheshgi.
The two men were taken to an unknown location. The sources told the daily that they had arrived in Nowshera to attack provincial Information Minister Mian Iftikhar Hussain.
District police chief Muhammad Hussain said a suspect had been arrested but rejected reports that Basit and his foreign accomplice had been captured.
The sources said Basit was wanted by police for several suicide bombings and attacks on government installations across Punjab and Khyber-Pakhtunkhwa provinces.